Enchanted Valley Temporarily Closed to Camping September 1-14

To protect contractor and visitor safety, Enchanted Valley will be temporarily closed to all public camping during the relocation of Enchanted Valley Chalet. Hikers and stock users may continue to travel through the valley, must be escorted by park staff. More »
Spruce Railroad Trail Improvements to Begin August 5

Spruce Railroad Trail will be closed from the Lyre River TH to approximately 0.25 miles east of Devil's Punchbowl. Work is expected to be completed by the end of October. The remainder of the trail will be accessible from the Camp David Jr. Road TH. More »
Safety Advisory: Mountain Goats

NPS has received reports of aggressive mountain goats near trails at Hurricane Ridge, Royal Basin, Seven Lakes Basin, Lake of the Angeles, & Grand Pass. Visitors are required to maintain a distance of at least 50 yards from all wildlife. More »
Educational Fee Waivers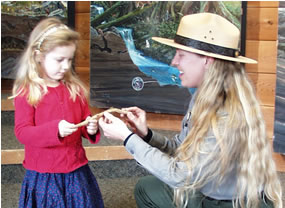 Park entrance fees may be waived for school group visits when class curriculum relates to park resources.
To obtain the waiver, please fax a written request to the Fee Program Office at (360) 565-3093.
The request should:
be on school letterhead
request an educational fee waiver of entrance fees
describe the curriculum as it relates to the park visit (one or two sentences)
list the trip date(s) and approximate number of participants in the group(s).
If a fax is not available, mail the request to: Olympic National Park Fee Program Office, 600 East, Park Ave., Port Angeles, WA 98362.
Please note that an educational fee waiver is not necessary if:
the students are under age 16;
all other passengers are employed or volunteering for the school; AND
the transportation vehicles are owned by the school district.
Entrance fees do not apply when these conditions exist.
Entrance fee waivers do not waive wilderness camping fees or commercial permit fees.
Please call (360) 565-3090 with any questions about the park's fee program.
Did You Know?

Although related to other marmots and groundhogs of North America, the Olympic marmot is unique. An endemic species, it is found only in the Olympic Mountains. Visitors to the high country of Olympic National Park may be lucky enough to encounter a marmot sunning itself near its burrow.