Spruce Railroad Trail Closed from Lyre River Trailhead to Devil's Punchbowl

The trail will be closed for improvements from the Lyre River TH to approximately 0.25 miles east of Devil's Punchbowl. Work is expected to be completed by the end of October. The remainder of the trail will be accessible from the Camp David Jr. Road TH. More »
Safety Advisory: Mountain Goats

NPS has received reports of aggressive mountain goats near trails at Hurricane Ridge, Royal Basin, Seven Lakes Basin, Lake of the Angeles, & Grand Pass. Visitors are required to maintain a distance of at least 50 yards from all wildlife. More »
Current Conditions
Or call (360)565-3131 for current road, campground and weather information.
Olympic Hot Springs Road (Elwha) is closed to all public access above Altair Campground due to the Glines Canyon dam removal.
Dosewallips
The Dosewallips Road remains closed by a washout 3.5 miles outside the park boundary. The park's Dosewallips Campground is open, with pit toilets only and no potable water. There is a 5.5 mile walk to the campground from the road closure.
As the washout is located within Olympic National Forest, the U.S. Forest Service has prepared an Environmental Impact Statement (EIS) to address the future of this road.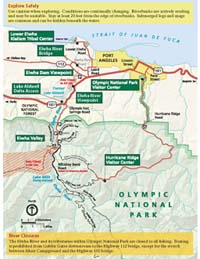 Elwha Closure Map
During dam removal, the sites of the Elwha and Glines Canyon dams and lower sections of Lake Aldwell and Lake Mills are closed to all use.
Boating is prohibited on the Elwha River from Upper Lake Mills Trail downstream to the Highway 112 bridge, except for the stretch between Altair Campground and the Highway 101 bridge.
Did You Know?

That Mount Olympus receives over 200 inches of precipitation each year and most of that falls as snow? At 7,980 feet, Mount Olympus is the highest peak in Olympic National Park and has the third largest glacial system in the contiguous U.S.