Madison Falls Trail Closed for Repairs Beginning July 7

The one-tenth mile Madison Falls Trail and trailhead parking lot located in Elwha Valley will close to public entry beginning on Monday, July 7 while crews make improvements and repairs.
Hurricane Ridge Road Closed to Vehicles Sunday 8/3 (6:00a - noon)

Due to the "Ride the Hurricane" bicycle event, the road to Hurricane Ridge will be closed above the Heart o' the Hills entrance station from 6:00a to noon on Sunday August 3rd.
Current Conditions
Or call (360)565-3131 for current road, campground and weather information.
Olympic Hot Springs Road (Elwha) is closed to all public access above Altair Campground due to the Glines Canyon dam removal.
Dosewallips
The Dosewallips Road remains closed by a washout 3.5 miles outside the park boundary. The park's Dosewallips Campground is open, with pit toilets only and no potable water. There is a 5.5 mile walk to the campground from the road closure.
As the washout is located within Olympic National Forest, the U.S. Forest Service has prepared an Environmental Impact Statement (EIS) to address the future of this road.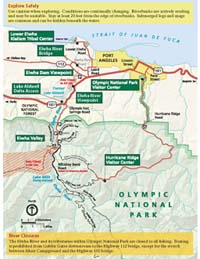 Elwha Closure Map
During dam removal, the sites of the Elwha and Glines Canyon dams and lower sections of Lake Aldwell and Lake Mills are closed to all use.
Boating is prohibited on the Elwha River from Upper Lake Mills Trail downstream to the Highway 112 bridge, except for the stretch between Altair Campground and the Highway 101 bridge.
Did You Know?

Olympic National Park protects the largest unmanaged herd of Roosevelt elk in the world. Olympic was almost named "Elk National Park" and was established in part to protect these stately animals.