Current Conditions
Or call (360)565-3131 for current road, campground and weather information.
Olympic Hot Springs Road (Elwha) is closed to all public access above Altair Campground due to the Glines Canyon dam removal.
Dosewallips
The Dosewallips Road remains closed by a washout 3.5 miles outside the park boundary. The park's Dosewallips Campground is open, with pit toilets only and no potable water. There is a 5.5 mile walk to the campground from the road closure.
As the washout is located within Olympic National Forest, the U.S. Forest Service has prepared an Environmental Impact Statement (EIS) to address the future of this road.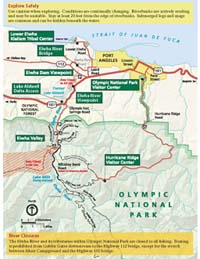 Elwha Closure Map
During dam removal, the sites of the Elwha and Glines Canyon dams and lower sections of Lake Aldwell and Lake Mills are closed to all use.
Boating is prohibited on the Elwha River from Upper Lake Mills Trail downstream to the Highway 112 bridge, except for the stretch between Altair Campground and the Highway 101 bridge.
Did You Know?
The old growth forests of the Pacific Northwest produce three times the biomass (living or once living material) of tropical rain forests. More...