Olympic Hot Springs Road Closed

The Elwha Valley's Olympic Hot Springs Road is closed to public entry beyond the Altair Campground during removal of the Glines Canyon Dam. Olympic Hot Springs is not accessible from the Elwha.
Elwha River Closures

Boating is prohibited on the Elwha River from Upper Lake Mills Trail downstream to the Highway 112 bridge, except for the stretch between Altair Campground and the Highway 101 bridge.
Changes to Visitor Services Due to Sequestration

Due to mandatory, across the board budget cuts, some visitor services at Olympic National Park have changed. See the Plan Your Visit section for more information.
Avalanche Safety
The terrain and weather in the Olympic mountains can create ideal conditions for avalanches. Influenced by wind, temperature, snow, rain slope and aspect, the risk of avalanche can vary daily or even hourly.
If you are headed to Hurricane Ridge or elsewhere in the high-country of the Olympics, always check current avalanche forecasts from the Northwest Avalanche Center website or by calling (206)526-6677. Always check in at the Hurricane Ridge Visitor Center for current local conditions.
During the winter of 2007/2008, at least 9 recreationists were killed by avalanches in Washington State. Before you go out, take some time to learn more about avalanches, avalanche safety and rescue.
Have you checked your Avalanche Safety Checklist?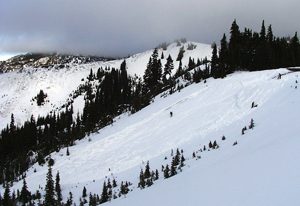 Avalanches like this one can occur in the Hurricane Ridge area. If venturing outside of the designated ski area or parking lot, always check with a ranger or the ski patrol for the latest avalanche warnings and forecasts.
Did You Know?

That Mount Olympus receives over 200 inches of precipitation each year and most of that falls as snow? At 7,980 feet, Mount Olympus is the highest peak in Olympic National Park and has the third largest glacial system in the contiguous U.S.