Olympic Hot Springs Road Closed

The Elwha Valley's Olympic Hot Springs Road is closed to public entry beyond the Altair Campground. Olympic Hot Springs is not accessible from the Elwha. The road is expected to re-open by Summer 2015.
Safety Advisory: Mountain Goats

NPS has received reports of aggressive mountain goats near trails at Hurricane Ridge, Royal Basin, Seven Lakes Basin, Lake of the Angeles, & Grand Pass. Visitors are required to maintain a distance of at least 50 yards from all wildlife. More »
Avalanche Safety
The terrain and weather in the Olympic mountains can create ideal conditions for avalanches. Influenced by wind, temperature, snow, rain slope and aspect, the risk of avalanche can vary daily or even hourly.
If you are headed to Hurricane Ridge or elsewhere in the high-country of the Olympics, always check current avalanche forecasts on the Northwest Avalanche Center website. Always check in at the Olympic National Park Visitor Center or Hurricane Ridge Visitor Center for current local conditions.
During the winter of 2007/2008, at least 9 recreationists were killed by avalanches in Washington State. Before you go out, take some time to learn more about avalanches, avalanche safety and rescue.
Have you checked your Avalanche Safety Checklist?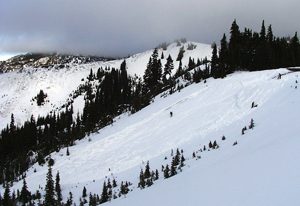 Avalanches like this one can occur in the Hurricane Ridge area. If venturing outside of the designated ski area or parking lot, always check with a ranger or the ski patrol for the latest avalanche warnings and forecasts.
Did You Know?
...that one criterion for the determination of a temperate rain forest is that the amount of moss and other epiphytes exceeds the weight of all the foliage (leaves and needles) per acre by at least two times.