Madison Falls Trail Closed for Repairs Beginning July 7

The one-tenth mile Madison Falls Trail and trailhead parking lot located in Elwha Valley will close to public entry beginning on Monday, July 7 while crews make improvements and repairs.
Hurricane Ridge Road Closed to Vehicles Sunday 8/3 (6:00a - noon)

Due to the "Ride the Hurricane" bicycle event, the road to Hurricane Ridge will be closed from 6:00a to noon on Sunday August 3rd.
Avalanche Safety
The terrain and weather in the Olympic mountains can create ideal conditions for avalanches. Influenced by wind, temperature, snow, rain slope and aspect, the risk of avalanche can vary daily or even hourly.
If you are headed to Hurricane Ridge or elsewhere in the high-country of the Olympics, always check current avalanche forecasts on the Northwest Avalanche Center website. Always check in at the Olympic National Park Visitor Center or Hurricane Ridge Visitor Center for current local conditions.
During the winter of 2007/2008, at least 9 recreationists were killed by avalanches in Washington State. Before you go out, take some time to learn more about avalanches, avalanche safety and rescue.
Have you checked your Avalanche Safety Checklist?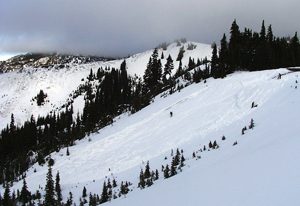 Avalanches like this one can occur in the Hurricane Ridge area. If venturing outside of the designated ski area or parking lot, always check with a ranger or the ski patrol for the latest avalanche warnings and forecasts.
Did You Know?

Although related to other marmots and groundhogs of North America, the Olympic marmot is unique. An endemic species, it is found only in the Olympic Mountains. Visitors to the high country of Olympic National Park may be lucky enough to encounter a marmot sunning itself near its burrow.