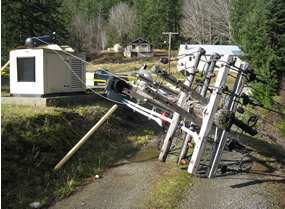 Bureau of Reclamation Photo
Many Hands Restore Elwha Power Lines
The winds of November 12 -- gusting as high as 123 miles an hour at the Glines Canyon dam -- damaged numerous power poles and resulted in nine line breaks along the stretch of electrical line between the Glines Canyon and Elwha dams.
The U.S. Bureau of Reclamation, under an agreement with the National Park Service, operates the two dams and manages the associated power lines. In the aftermath of the storm, the Bureau turned to the local Public Utility District (PUD) and the City of Port Angeles for help in repairing the downed lines and poles, while park crews took care of clearing debris and fallen trees. The Bureau's Elwha Program Coordinator expressed his gratitude for the assistance provided by the City, PUD and park.
Both the Glines Canyon and Elwha dams are slated for removal as part of the Elwha Restoration Project. Dam removal will begin after water quality protection facilities are completed.