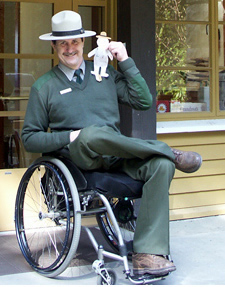 Michael Smithson to Retire
Michael Smithson, chief of resource education at Olympic National Park, is retiring on June 2, after more than 30 years of service.
Michael started his career at Rocky Mountain National Park in 1978 and became a ranger-naturalist there in 1981. He started interpretive horse patrols, roamed many park trails on horseback and was the first paralyzed individual to climb the 14,255' Longs Peak.
Michael and his family moved to Olympic National Park in 1988 when he accepted the position of Assistant Chief Naturalist. In 1994, he became the park's Chief of Resource Education, a position he has held since.
In his time at Olympic, Michael has worked tirelessly to serve park visitors. Quick to embrace new ways of teaching and involving visitors, Michael spearheaded the development of many new programs, exhibits and publications.
Michael was the 2004 recipient of the National Park Service's Sequoia Award, which recognizes individuals whose efforts have had a sustained, positive impact on the profession of interpretation.
Michael is looking forward to having more time to explore the park and work with his hands -- illustrating, carving and making music.
Always a champion of interpretation, park visitors and his staff, Michael will be deeply missed.