Park Newsletter June 20, 2008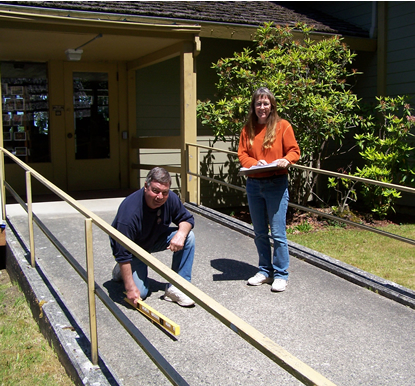 Measuring doorways, ramps and handrails, counting parking spaces and campsites – all these and more are part of a six-month accessibility survey now underway at Olympic.
Lori Dillon and David Sheedy arrived at Olympic in early May and over a six-month period, will develop a comprehensive accessibility report for the park. Their report will identify how well park facilities comply with the accessibility design standards established by the Americans with Disabilities Act and other laws. Deficiencies will be noted, along with site-specific recommendations for correcting them.
The pair begins a site survey just as a member of the public might begin a visit, looking first at the parking lot and then proceeding to the building or campsite. "Are there enough accessible parking spaces, and are they clearly marked and easy to find? Are there curb cuts providing wheelchair access to the sidewalks? How wide are the doorways, and do the doorknobs meet standards?"
So far, David and Lori have surveyed facilities in the Mora area and the Olympic National Park Visitor Center in Port Angeles. When their survey is complete, the park will have the information needed to develop specific project plans and funding proposals for improving accessibility for park visitors.
David and Lori are veterans of National Park Service accessibility surveys. Since completing their training and first survey at Redwoods National Park in 2003, they have conducted surveys at 11 other parks, including Mount Rainier, Rocky Mountain and Glacier.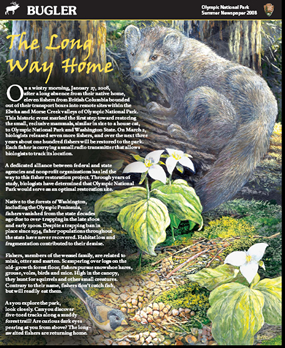 Olympic Bugler Now Online
Olympic's summer newspaper is available now at all park entrance stations, visitor centers, ranger stations and the park's website.
Packed with articles about fisher reintroduction, Elwha restoration and much more, the Bugler also contains a complete schedule of ranger-led education programs offered this summer throughout the park.
Check the Bugler online.