Park Newsletter July 3, 2008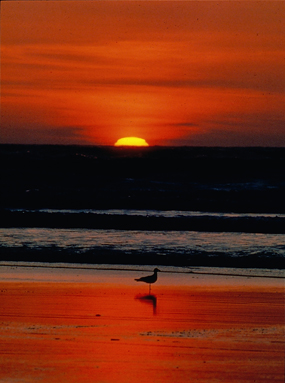 Celebrate July 4th with Natural Fireworks!
Looking for fireworks without the noise? Try a sunset on the beach this weekend, or an up-close look at meadow wildflowers.
Olympic is a great place to celebrate, with nearly all roads and campgrounds repaired and open after last winter's storm damage. The Staircase area reopened today, just in time for the holiday weekend. Ranger-led programs are in full swing, offered free of charge throughout the park.
Park trails also sustained extensive damage, and anyone planning a hike should check for current trail conditions before venturing out.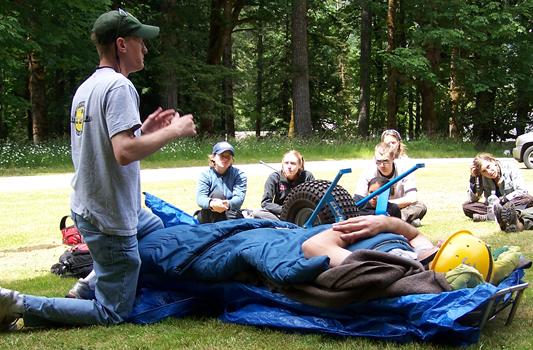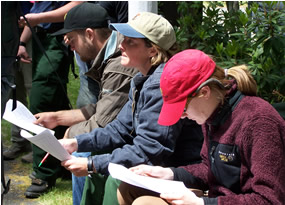 Training Held for Park's Seasonal Employees and Volunteers
Another sure sign of summer was held recently, annual training for seasonal employees and volunteers at Olympic National Park.
The first few days of training were held at the Clallam County Fairgrounds. A wide variety of classes and activities were presented, all aimed at preparing new staff and volunteers for the current park season.
Many jobs in the park, from trail maintenance to helping at the visitor center, are held by "seasonals" or volunteers. Training was geared to giving them an overall picture of Olympic National Park and the specialized training they need to do their jobs. Both seasonals and volunteers are important parts of the park team and are frequently the first employees that visitors encounter.
-- Contributed by Volunteer Henry Meyer
Acting Superintendent Honored by Staff Olympic's Deputy Superintendent Sue McGill has been the park's Acting Superintendent since early January when former Superintendent Bill Laitner retired. Last month, the park's senior staff presented Sue with an award honoring her "outstanding professionalism and leadership of Olympic National Park during her term as Acting Superintendent."
In particular, Sue was recognized for successfully filling both the superintendent's and deputy superintendent's usual roles. Over the past seven months, Sue has worked long days to meet with park partners, civic groups, congressional staff and others while at the same time keeping park projects – including storm damage repair and major reconstruction of the Hurricane Ridge Road – and routine park operations on track.
In concurring with the park's award recommendation, Pacific West Regional Director Jon Jarvis noted that while Sue has had a wide range of issues to work on while Acting Superintendent, she "never lost her sense of humor." Jarvis' final words sum up park employees' feelings too, "This is a well-earned recognition."
Congratulations, Sue!