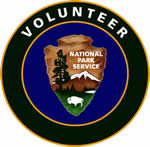 Volunteers to be Honored
Olympic's volunteers are to be recognized at the park's annual Volunteer Appreciation Lunch on Wednesday, August 22.
Park staff will prepare and serve a special potluck lunch for this year's volunteers.
So far this year, volunteers have donated nearly 40,000 hours to Olympic National Park and its visitors. Volunteers serve in a variety of capacities, from helping wilderness visitors and monitoring and maintaining trails to staffing visitor center desks, presenting education programs and providing administrative support.
All 2007 Olympic National Park volunteers are invited to attend. For more information about the lunch, please contact Volunteer Coordinator Maggie Tyler at 360-565-3141.