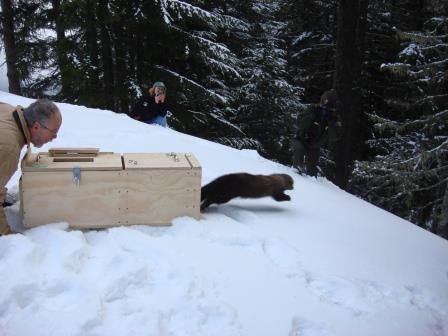 NPS Photo
On a wintry morning, January 27, 2008 after a long absence from their native home, eleven fisher from British Columbia bounded out of their transport boxes into remote sites with Olympic National Park. This historic event marked the first step toward restoring the small, reclusive mammals to the forests of Olympic National Park and Washington State. Over the next three years an additional 79 animals were restored to the park.
Fishers are members of the weasel family, about the size of a large house cat. They are native to Washington, including the Olympic Peninsula, but their dark, thick fur made them attractive to trappers and by the early 20th century, decades of over-trapping led to a severe population decline and eventual disappearance from the state.
A dedicated alliance between federal and state agencies and nonprofit organizations has led the way to this fisher restoration project. Through years of study, biologists determined that Olympic National Park would serve as an optimal restoration site. Since their reintroduction in 2008-2010, fishers have dispersed widely throughout the Peninsula, and successfully established home ranges in both managed and wilderness forests. Scientists continue to monitor the Peninsula's fisher population.
Click the links below to learn what scientists have learned about the Olympic Peninsula's fisher population and check back here frequently as we add more information and photos.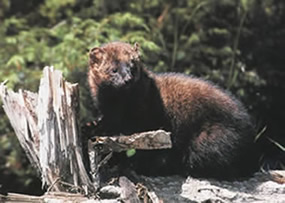 Quick Links to More Information about Fishers and Fisher Reintroduction
Fishers in Washington Website
Hosted by Washington Department of Fish & Wildlife, this site has photos, video and frequent updates about the Olympic fisher reintroduction effort.
Publications
Evaluation of Fisher (Pekania pennanti) Restoration in Olympic National Park and the Olympic Recovery Area. 2014 Annual Progress Report Happe, P.J., K.J. Jenkins, T.J. Kay, K. Pilgrim, M.K. Schwartz, J.C. Lewis, and K.B. Aubry. 2015. Natural Resources Data Series NPS/OLYM/NRDS - 2015/804. National Park Service, Fort Collins, Colorado
Evaluation of Fisher Restoration in Olympic National Park and the Olympic Recovery Area: 2013 Annual Progress Report. Happe, P.J., K.J. Jenkins, M.K. Schwartz, F.C. Lewis, K.B. Aubry. 2014. U.S. Geological Survey, Reston, Virginia.