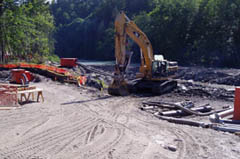 The Elwha Water Treatment Plant:
The EWTP will maintain existing turbidity levels by removing sediment released downstream during removal of the two dams. The plant is located near the industrial water channel at river mile 2.8. The facility is designed to remove sediment from the water supply for the Lower Elwha Klallam tribal fish hatchery, the Washington Department of Fish and Wildlife (WDFW) fish rearing channel, and the Nippon Paper Industries mill, and when needed to the PAWTP for further treatment for municipal use.
During high turbidity, it would allow the city to turn off the Ranney collector pumps to prevent plugging of the subsurface gravels. When times of high turbidity pass, the city could again send water from the Ranney collector to the PAWTP. Water treatment for the Lower Elwha Klallam Tribe fish hatchery and the WDFW rearing channel is necessary in order to protect anadromous fish stocks. The EWTP will supply filtered water for the hatchery and rearing channel in order to protect the fish from adverse conditions that may likely arise during dam removal. During dam removal, a portion of the rearing channel production of Elwha Chinook salmon will occur in off-channel ponds near Morse Creek.
The high sediment transport period is expected to last from three to five years, depending on stream flows during that time. Higher stream flows would erode the sediments downstream faster than lower flow periods. The EWTP will only operate only during this three to five year period.