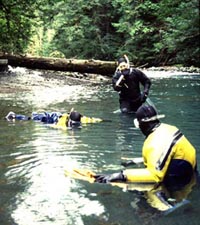 Overview:
The Elwha project as a whole, including dam removal, restoration efforts, and protection measures, is serving as a "living laboratory" for monitoring large-scale ecosystem recovery and investigating particular ecosystem processes and components.
Research consists of a core program of monitoring activities and a set of prioritized research projects, supplemented by other research projects that are complementary to the program aims. This includes research on the following:
-Historical data (before the dams):
Anadromous fish, fisheries use, vegetation distribution, hydrology, land use.
-Baseline characterization (current conditions):
Fish populations and distribution, stream invertebrates, wildlife populations and distribution, hydrology, groundwater, sediments, estuarine/marine species and sediments, fisheries use, recreational use, other land use.
-Monitoring for restoration:
Anadromous fish, sediments, hydrology, stream invertebrates, riparian vegetation.
-Monitoring for ecosystem recovery: Vegetation, wildlife, nutrient flows
-Research on ecosystem recovery processes:
Marine-origin nutrients, recolonization of streams by anadromous fish, changes in river sediments and spawning habitat, vegetation recolonization and change in distribution, wildlife habitat changes, wildlife population and distribution dynamics
An Interpretive History
During 2009-2010, historians from Historical Research Associates, Inc. worked closely with Olympic National Park cultural resource staff to produce an interpretive history of the Elwha River Valley and the Elwha dams. This historic study tells the story of the two dams that spanned the Elwha River for more than 80 years, and of the many changes the dams brought to people and communities around the Olympic Peninsula, including the city of Port Angeles, whose rapid economic growth was facilitated by Elwha hydropower; and the Lower Elwha Klallam tribe, whose members' livelihood and lifeways have come from the Elwha River since time immemorial. The interpretive history also recounts the long social and political struggle to remove the dams and restore the environmental integrity of the Elwha River and the river's historic salmon runs.
The document serves as part of the mitigation that allowed the removal of the two historic dams, and provides background information and topical themes for future NPS interpretive programs in the Elwha Valley.
Most of the historic photographs that illustrate this volume were obtained from the Olympic National Park Archives, [with many images acquired from James River], the Bert Kellogg Collection of the North Olympic Library System, and the historic photo collection at the Clallam County Historical Society.
An Interpretive History of the Elwha River Valley and the Legacy of Hydropower on Washington's Olympic Peninsula
CAUTION! Download is an 18 megabyte PDF