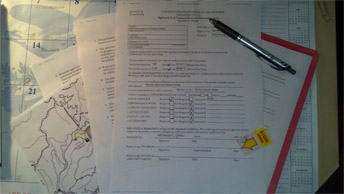 NPS
Providing opportunities for appropriate public enjoyment is an important part of the National Park Service mission. Approval of any special uses of the park-unrelated to public enjoyment-may be allowed if not otherwise prohibited by law or regulation. However, the National Park Service can only allow uses that are (1) appropriate to the purpose for which the park was established, and (2) can be sustained without causing unacceptable impacts.
A special park use is defined as an activity that takes place in a park area, and that:
requires written authorization and some degree of management control from the National Park Service in order to protect park resources and the public interest;
is not prohibited by law or regulation;
is not initiated, sponsored, or conducted by the National Park Service;
is not managed under a concession contract;
is not a recreation activity for which the NPS charges a fee, or a lease.
Please keep these requirements in mind if you are considering a request for special use of facilities or resources at Obed Wild and Scenic River.
Activities and events that require Special Use Permits include:
A non-refundable application fee of $25 is required.
Additional administrative, location and/or cost recovery fees may also be charged.
Follow the directions found on the
Application for Special Use Permit
(950kb PDF), then mail the completed form to the park headquarters address no less than 14 days in advance of the event. Forms will only be accepted via U.S. Mail. Forms that have been faxed or e-mailed will not be accepted for consideration. Incomplete applications may be returned to the applicant, along with the application fee, without action. The Park will attempt to reach the applicant to resolve minor issues but may return the application without action if unable to reach the applicant over three business days. Applicants are encouraged to provide reliable daytime telephone contact information.