Hiking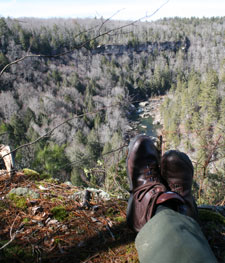 Regardless of the time of year, every season offers its own special rewards to those who take the time to explore the Obed Wild and Scenic River on foot. Visitors interested in a short, easy walk will enjoy the hike to Lilly Bluff Overlook, a mere five minutes down a wide, relatively flat path. The trail ends in a winding network of overlook platforms which provide lofty and commanding views of Clear Creek canyon's sheer sandstone walls and of the river far below. The self-guided Emory River Nature Trail, a .7 mile loop which begins at Rock Creek Campground and which follows the banks of the Emory River, will also provide the visitor with an introduction to the cultural and natural resources of the Obed Wild and Scenic River. An interpretive brochure is available at the trailhead.
For a somewhat longer and even more spectacular hike, start on the path to Lilly Bluff Overlook and then turn right at the sign that says "Point Trail." The Point Trail has a round trip length of 3.8 miles and includes some moderate changes in elevation. Along the way the trail crosses the rushing cascades of Melton Mill Branch on a bridge nestled deep within the hush of the hemlock forest canopy between impenetrable green walls of laurel and rhododendron. The trail culminates on the narrow, exposed ridge that separates the Obed River from Clear Creek before the two flow together. In places you can literally look down on either side and see the two streams hundreds of feet beneath you, the distant roar of their rapids resounding off of the canyon walls. If you look carefully on your right as you approach the end of the trail, you may find the faint path which leads up to a natural sandstone arch hidden there on the ridgetop.
For those interested in longer day hikes or in backpacking trips, the Cumberland Trail provides a challenging and extremely scenic alternative. The 14.2 mile section of the Cumberland Trail from Rock Creek Campground to the Devil's Breakfast Table passes through rugged terrain and offers numerous overlooks of the river canyon. Large portions of this trail are within the Catoosa Wildlife Management Area and are subject to periodic closures. For more information on Catoosa WMA rules and regulations, call (800) 262-6704. For more information on Cumberland Trail State Park, call 423-566-2229.
| | |
| --- | --- |
| Lilly Bluff Overlook Trail | .3 miles one way |
| Bridge Trail | .5 miles one way |
| Boulder Trail | .2 miles one way |
| Point Trail | 3.8 miles round trip |
| Emory River Nature Trail | .7 miles round trip |
| Cumberland Trail | 14.2 miles one way |