Boulder Climbing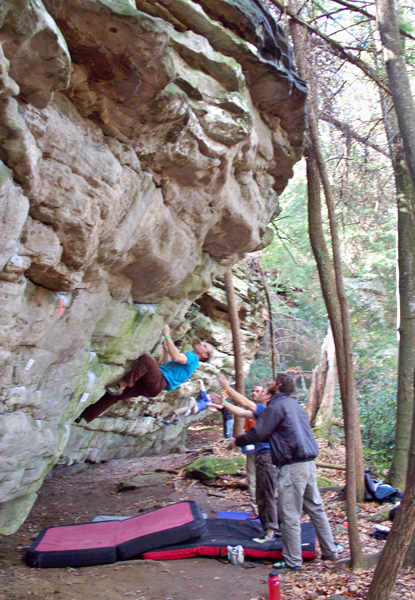 Boulder Climbing is fast becoming one of the most popular activities at the Obed Wild and Scenic River. A short trail from the Lilly Bluff Overlook Parking Lot to the park's Boulder Field will give the climbing enthusiast more than a dozen sandstone rock boulders to scale. No ropes are needed in this endeavor, but all climbers must possess nimbleness, dexterity, and a pretty strong grip. Boulder climbing tests your willingness and ability to ascend a rock face that is largely lacking in features and is often overhanging. The intense nature of boulder climbing at the Obed is in direct contrast to the calm and peaceful area where the boulders lie in the boulder field. The cool breezes and chirping birds do not adequetly prepare a climber for the strains and struggles that the boulder field presents. The challenge is in the doing...and in the conquering of a segment of nature.
If you plan to do some bouldering at the Obed, be sure to use chalk to keep your hands dry. Always climb with a friend who can support you as you climb, and always use a crash pad.
Did You Know?

Did you know that the Obed Wild and Scenic River is one of seven designated National Park Service sites located in Tennessee? Many visitors from the central part of the Volunteer State stop in at the Stones River National Battlefield in Murfreesboro before making their way east to visit the Obed.