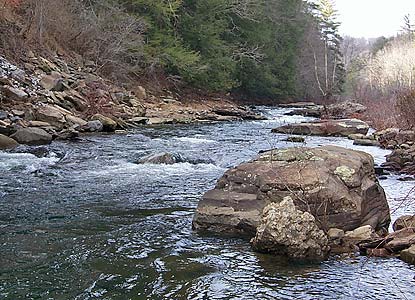 The Obed Wild and Scenic River has many natural treasures. Wildlife and plant life are abundant here, and every trip to the Obed brings about a chance to view both. Visitors may gaze upon a red-shouldered hawk flying above the Lilly Bluff Overlook. They may also take a walk down to the Boulder Field and come across a blossoming red trillium wildflower. Or they might cast their fishing line on Clear Creek and reel in a fiesty smallmouth bass. Whatever recreational activity a visitor attempts at the Obed, they are sure to see nature up close.
This nature and science page will delve into the wildlife that is abundant at the Obed. As time goes on, the page will be expanded to include information on the environment, natural features and ecosystems, geology, and other life forms in the park. By checking out the topics on this page, you will become better acquainted with the mammals, birds, reptiles, trees, plants, and wildflowers that are part of the beauty of the Obed.
Social Science
In 2012, the Obed Wild and Scenic River, in conjunction with the Park Studies unit of the College of Natural Resources at the University of Idaho, conducted many contact stops to hand out surveys to the visiting public. The information that was gethered during this period has been compiled and is now available for review. Click here for the final report (4.9 MB).
During the same year, the Obed WSR and the Park Studies Unit of the College of Natural Resources at the University of Idaho also compiled a report on the Impacts of Visitor Spending on the Local Economy. That report can be viewed by clicking here (421.1 KB).