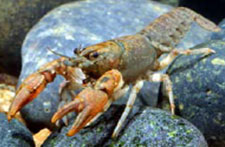 The Obed Wild and Scenic River, located on the Cumberland Plateau, has 13 species of crayfish living within or near its boarders. These 13 species come from two genera in the family Cambaridae, a solely North American crayfish family. There are seven families of crayfish worldwide.
The two Obed genera are highly specious (approximately 100 species each) and widespread. They are Cambarus and Orconectes. In total there are approximately 360 species of crayfish in the United States and Canada and approximately 80 species are known to occur in Tennessee.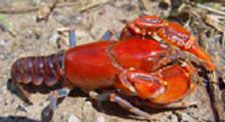 In the Obed area crayfish can be found in any surface water area and most areas where the water table is close to the surface. Three of the species found in the Obed area are burrowers that spend almost all of their lives in burrows and are rarely found out in open water. Crayfish display three basic life strategies; living in open water and hiding under objects such as woody debris and rocks, living in short burrows dug into stream bank or under large rocks, and burrowing vertically into ground water that is found near the surface. Technical terminology for these life styles is tertiary, secondary, and primary burrowers, respectively.
For reference:
"A Field Guide to the Crayfishes of Obed Wild and Scenic River" by Roger F. Thoma [1.5 MB PDF].