Hiking and Beachwalking
The hiking trail along the maintenance road leads to the 1,610' summit of Mt. Alava; the trailhead is located at Fagasa Pass, a short drive west of Pago Pago. The hike is 7.4 miles round trip; allow 3 hours for your hike up and 2 hours for your return to the pass. This trail continues to Vatia Village and can be accessed there. View a pdf map of this trail.
Trails are now completed along the Sauma Ridge. The trailheads are located at the Amalau Valley scenic overlook. The lower trail leads steeply through rainforest past some unique archaeological sites. The upper trail joins the ridge where Mt. Alava is located. Loops are now possible with some road walking.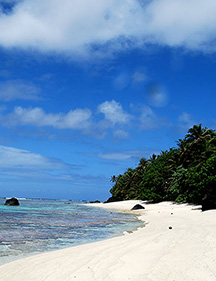 NPS
Two short walks reach World War II historic sites, the Breakers Point and the Blunt's Point Gun Emplacement sites. View a pdf
map of the Breakers Point trail
. View a pdf
map of the Blunt's Point trail
.
Ofu and Olosega have extensive stretches of pristine shoreline and fringing reefs, and are the most scenic seascapes in American Samoa. On Ta'u the trail from Saua around Si'u Point leads to the southern coastline of where rocky coast and sea cliffs stair-step to the 3,000 foot summit of Lata Mountain. Inland hiking in Ta'u can be difficult due to infrequent trail maintenance. Check at the visitor center on Tutuila to find out the status of these steep rainforest hikes.


Did You Know?

Within the park, near Ofu beach, the To'aga archeological site has evidence of more than 3,000 year's of continuous human occupancy.  Modern descendants still reside nearby at Ofu Village