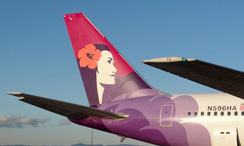 Since the park is in a remote part of the South Pacific and has limited access opportunities, unless you live in American Samoa, more than casual planning is required to visit the park. The nearest airport is Pago Pago International Airport on Tutuila Island.
Currently, Hawaiian Airlines is the only major carrier to American Samoa. They provide two flights a week round-trip from Honolulu, Hawai'i.
The International Airport at Upolu in nearby (Western) Samoa is served by several flights weekly from Australia, New Zealand, and Fiji. Connecting flights serve Tutuila from Upolu by small aircraft nearly daily.