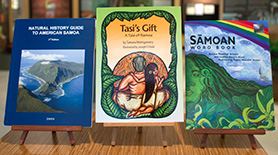 Natural History Guide to American Samoa
is a collection of writings by 30 authors with first-hand knowledge of American Samoan resources.
Tasi's Gift: A Tale of Samoa
is a touching story of selfless giving brings together Samoan song, dance, and design. A young girl learns to carve traditional bowls from her grandfather and a few magical forest helpers. The
Samoan Wordbook
features beautifully illustrated vocabulary words, a pronunciation guide, and a glossary. Categories include family, home, school, the body, clothing, food, opposites, numbers, nature, and time.