Canoeing Kayaking Tubing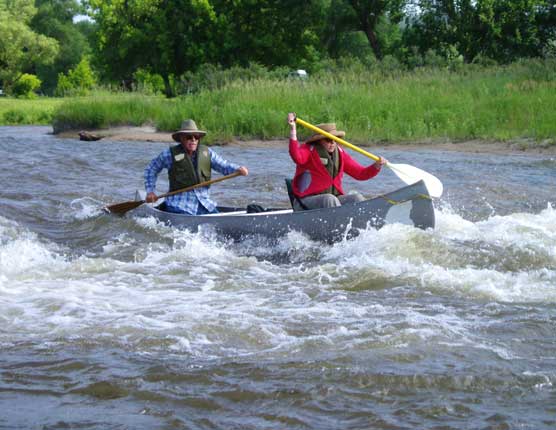 NPS PHoto
Most visitors come to the Niobrara to float the river by canoe, tube, kayak or raft. Many camp overnight in various private campgrounds operated by individual outfitters, or at the campground in Smith Falls State Park.

While floating the Niobrara is a popular summer activity, spring and fall are also great times to enjoy the river by canoe or kayak.
The National Park Service does not endorse or promote specific private businesses. The following links are provided for your trip planning convenience:
Local Outfitters

River Flow and Conditions
River Guides - Downloadable PDF files:
You will need Acrobat Reader to open these files. Acrobat is free, and you can download it here.
Niobrara National Scenic River map

Paddler's Chart - Brief descriptions of 6 stretches of the river.

River Guide 1 - Borman Bridge to Ft. Niobrara National Wildlife Refuge

River Guide 2 - Ft. Niobrara NWR to Berry Bridge

River Guide 3 - Berry Bridge to Brewer Bridge

River Guide 4 - Brewer Bridge to Rocky Ford

River Guide 5 - Rocky Ford to Norden Bridge

River Guide 6 - Norden Bridge to Meadville


Surge Flow - A unique hydrological feature of the Niobrara
Did You Know?

The Niobrara is a crossroads of habitats where many species are on the edge of their range. 83 eastern species reach their western range limits and 47 western species approach their eastern limits here. Click "More" to visit the Niobrara National River "Nature & Science" page. More...