Brochures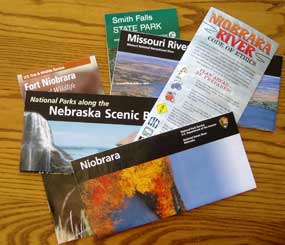 NPS Photo
Park Brochure
For a free park brochure/map e-mail us; call (402) 376-1901 or write to:
Information
Niobrara National Scenic River
214 W. US Highway 20
Valentine NE 69201
Site Bulletins
The following National Park Service publications are available for download in PDF format:
Niobrara National Scenic River official map
Geology - Details of the rock strata seen along the river.
River Characteristics:
You will need Adobe Reader to open these files. Adobe Reader is free, and you can download it here.


Did You Know?

An unusual hybrid of aspen occurs in a few isolated canyons in the Niobrara River valley -- a remnant of the last ice age. Click "More" to visit the Niobrara National Scenic River "Plants" page. More...