Brochures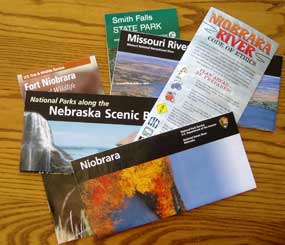 NPS Photo
Park Brochure
For a free park brochure/map e-mail us; call (402) 376-1901 or write to:
Information
Niobrara National Scenic River
214 W. US Highway 20
Valentine NE 69201
Site Bulletins
The following National Park Service publications are available for download in PDF format:
Niobrara National Scenic River official map
Geology - Details of the rock strata seen along the river.
River Characteristics:
You will need Adobe Reader to open these files. Adobe Reader is free, and you can download it here.


Did You Know?

The Niobrara is a crossroads of habitats where many species are on the edge of their range. 83 eastern species reach their western range limits and 47 western species approach their eastern limits here. Click "More" to visit the Niobrara National River "Nature & Science" page. More...