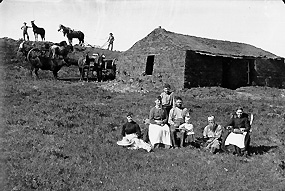 NPS photo - Homestead National Monument of America
Homesteaders and ranchers
Cattlemen from south of the sandhills were the first Euro-Americans to spend any great length of time in the sandhills and to extensively exploit the central Niobrara River area.
In the 1870s, using Texas cattle, Mexican cattle-raising methods, and the free grass of the plains, a small number of men profited from the open range of the sandhills and the Niobrara River valley. They found a ready market at the military forts where the army purchased cattle to supply the Indian reservations.
The deep ravines and canyons along the Niobrara River provided ideal places to hide stolen cattle, and cattlemen's associations and vigilante groups were formed to curb the rustling.
Federal and local regulations began to restrict the free range, but it took the farmer to settle the sandhills, change ranching, and convert a frontier to a state. While the eastern third of the state was populated in the 1850s, it would be another thirty years before the central Niobrara Valley was settled.
Cherry County's first homesteader, Charles Sears, staked his claim ten miles east of Valentine and received his patent in 1886. Niels Nielsen, a Danish immigrant, estimated that a sod house cost about $50 to build, and a wood-frame house cost $250 to build in 1889. $272 in materials would build the two miles of barbed-wire fence to enclose a 160 acre quarter-section homestead. Promoters and developers made dubious claims regarding the productivity of the land and amount of rainfall, leading to a high failure rate among homesteaders who tried their hand at dry-land farming.
The 20th Century
One animal unit (cow and unweaned calf) requires from 10 to 30 acres of grazing in this rangeland, so a traditional 160 acre homestead could only support from 5 to 16 head of breeding stock – not a profitable number. In 1904, President Theodore Roosevelt signed the Kincaid Act, increasing the size of a western Nebraska homestead to 640 acres, a full square mile section. This acreage proved more practical for the type of prairie range present in the area, and made ranching a more attractive prospect than attempting to grow crops.
Between 1900 and 1935, the average sandhills ranch had doubled in size from 640 to 1280 acres. However, as ranches increased in size to over 4000 acres by the end of the 1900s, population steadily declined, with 1990 census counts lower than those of 1890. In some respects, the area is returning to its frontier phase as sparsely populated rangeland.