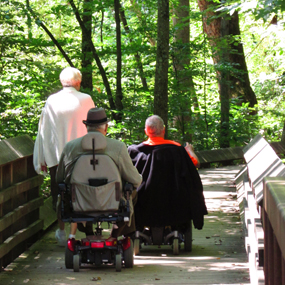 All four park visitor centers are wheelchair-accessible, and accessible trails are available at Canyon Rim Visitor Center and Sandstone Falls. All park films and video exhibits are presented with open captions at all times. The exhibits at Canyon Rim Visitor Center are also audio-described for the sight-impaired. Assisted listening devices for the hearing-impaired are available for the park films at Sandstone and Canyon Rim visitor centers. American Sign Language interpretation is available by request. Please call 304-465-0508 at least 14 days prior to your visit.
Download the audio files for the Canyon Rim Visitor Center exhibits here:
Canyon Rim Visitor Center Audio Files
Camping
There are accessible campsites at Glade Creek and Grandview Sandbar Campgrounds. Glade Creek Campground also includes an accessible picnic area, fishing area, and a small portion of the Glade Creek Trail.
Accessible Trails
Canyon Rim Visitor Center
The 1/10th of a mile boardwalk offers scenic views of the gorge and New River Gorge Bridge. An easy walk on a fully accessible ramp leads to the first viewing point. Note: the boardwalk to the lower overlook is not accessible as it descends 178 steps.
more...
Sandstone Falls Boardwalk
A ¼ mile, handicapped accessible boardwalk crosses two bridges leading to islands and observation decks offering fantastic views of the falls and access to fishing areas. The boardwalk passes through the Appalachian riverside flatrock community, which contains a rare assemblage of plants found in only a few places along several high-energy Appalachian rivers.
more...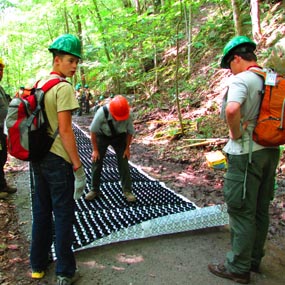 Glade Creek Accessibility Project
In July 2013, over 30,000 boy scouts participated in the National Jamboree at the Summit Bechtel Family National Scout Reserve, adjacent to the park. As part of the community service element of the jamboree, 212 scouts, led by park staff and two accessibility experts, Bill Botten and Dr. JR Harding, competed an accessibility project at Glade Creek. Projects completed included an accessible fishing area, trailhead and trail section, picnic area, and camping and parking site.