River Detours and Closures at the Thomas Buford Pugh Memorial Bridge

The WV Department of Highways and the Federal Highways Administration is replacing the Thomas Buford Pugh Memorial Bridge on Route 41 in the town of Prince. Construction will require temporary full river traffic closures and long term river detours. More »
Fishing
Fishing at New River Gorge
Fishing is one of the most popular activities on the New River. The diversity of fish in its waters makes the New River an excellent warm water fishery. With proper respect for the river and its resources and a few safety precautions, anglers can enjoy a quality fishing experience.

Public river access points within New River Gorge National River are available at the Tug Creek Beach, Brooks Falls, Hellems Beach, and Sandstone Falls via River Road at Hinton; Meadow Creek; McCreery, Grandview Sandbar, Mill Creek, and Glade Creek off Hwy. 41 near Prince; Dunglen and Stone Cliff near Thurmond; Cunard; and Fayette Station.
To access the New River across private property, one must receive permission from the land owner.
Other places to fish include Bluestone National Scenic River, Gauley River National Recreation Area, Meadow River, Greenbrier River, Bluestone Lake, and Summersville Lake.
A Time to Fish
Spring and fall are the best times of the year to fish the New River. During these seasons, water temperatures are in transition between cold winter temperatures and warm summer temperatures. Most fish species are more active in cooler water and are more aggressively feeding during the spring and fall.
The best times of the day to fish are early morning and late evening. Most fish prey is much more active at these times; therefore, more fish are out feeding. Some species of fish feed at night, providing anglers an opportunity for night fishing.
Catching Your Fish
The New River offers anglers the opportunity to catch bass (smallmouth, largemouth, striped, and rock), walleye, muskellunge, crappie, bluegill, carp, or flathead and channel catfish.
Nightcrawlers and hellgrammites are common bait used for fishing. Popular artificial lures are top-water crank-baits, spinner baits, minnows, or crawfish. Dark-colored lures work better in murky water conditions and bright-colored lures in clear water.
The smallmouth bass is one of the more abundant species found in the New River. A variety of artificial lures may be used. Top-water lures used late in the evening are an excellent choice. Live bait, such as nightcrawlers or hellgrammites, can increase the odds of catching bass.
The rock bass is not an aggressive fighter; however, it is an aggressive biter. This species of sunfish will hit anything from crank-baits to nightcrawlers. A preferred lure to use is the twister-tail grub.
The walleye is commonly fished for in the fall when water temperatures cool down. It may be caught using crank-baits, jigs, jig and minnow combinations, and nightcrawlers. You should fish deeper water for walleye.
Flathead and channel catfish can be caught on similar bait. Although channel catfish may occasionally strike a crank-bait, live bait is a wiser choice. Types of live bait to use include nightcrawlers, hellgrammites (both black and yellow phases), and crayfish. Minnows may also be used when fishing for catfish.
The muskellunge or musky can be caught on a variety of crank and spinner-baits. Top-water crank-baits appear to be a successful choice for catching muskies. The musky can also be caught using live bait.
Trout are present in several tributaries of the New River. West Virginia's Division of Natural Resources stocks these tributaries each spring with golden, rainbow, brook, and brown trout. Trout fishing can be enjoyed on these streams within the park: Meadow, Glade, Dunloup, Glade at Babcock State Park, or Mill creeks and Gauley, Meadow, or Little Bluestone rivers. A trout stamp is required when fishing for trout.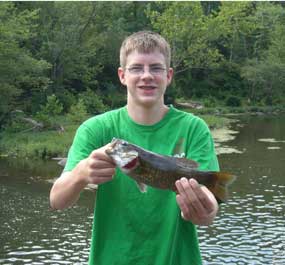 Catch and Release
Catch and release ensures fishing opportunities for future generations. Glade Creek from the pedestrian bridge 3 miles down to the New River is designated a catch and release for trout. The New River from the I-64 bridge at Sandstone 12 miles downstream to the Grandview Sandbar is designated catch and release for black bass. This includes smallmouth, spotted, and largemouth bass.
Survival of the fish being released depends upon how well the angler handles the fish while catching and unhooking it. Several basic guidelines to follow are:
return the fish to the water as soon as possible
unhook the fish in the water
handle the fish as little as possible
use needle-nose pliers to remove the hook
remove the hook quickly and carefully
move fish back and forth in the water to move
water through its gills until it can swim away
Fishing Safety
Safety on the river will always make your fishing trip an enjoyable experience and possibly could save a life. Some safety tips are:
always wear a life jacket around the river
never drink alcohol while fishing
remain seated while in a boat
never fish alone; take a friend along
do not wade in water above your knees
fish at least 100 feet away from a boat launch
All persons fishing in the park are required to have a West Virginia fishing license. Year long and 3-day tourist licenses are available at area sporting goods stores and bait shops.
Much of the land within the National Park Service authorized boundaries remains private property: please respect the owners' rights.
Did You Know?

Over one million visitors come to New River Gorge National River each year. Park rangers assist visitors and help them better understand the park and the park resources.