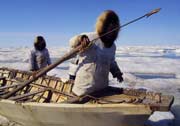 Barrow, Alaska
Over the latter half of the 1800s, many New Bedford whaling vessels voyaged to the North Slope of Alaska, often wintering over to await the spring whaling season. Some New Bedford whalemen may have settled in Arctic villages, and some North Slope residents trace their ancestry to the "Yankee whalers."
The Iñupiat people were actively recruited as whalemen and crews on the boats. The Iñupiat engaged in active and brisk trade with the whaling crews and helped supply the fleet with food. Today these people continue to practice subsistence whaling.
The Iñupiat Heritage Center in Barrow, which opened in 1999, preserves the language and knowledge of these native people and promotes the collection, preservation, and exhibition of materials significant to their traditional culture and history. The center is legislatively affiliated with New Bedford Whaling National Historical Park.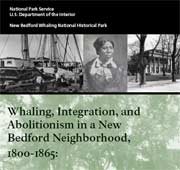 Behind the Mansions: The Political, Economic, and Social Life of a New Bedford Neighborhood
In the mid 1800s, New Bedford was the whaling capital of the world. The success and global, exploratory nature of the whaling industry helped to create a bustling, cosmopolitan seaport community, and one of the richest and most diverse cities in the world. Opportunities for individuals and families from all backgrounds to make a living and prosper were readily available at sea and in the shoreside businesses that supported the whaling industry. New Bedford was also attractive to slaves seeking freedom because of the opportunities for employment presented by the whaling industry, an active abolitionist community, and a coastal trading system that provided escaping slaves opportunities to hide on vessels heading to New Bedford from southern ports.
Much of this history happened against the backdrop of something familiar to us-the neighborhood-the streets where we walk, the people we call our neighbors, the houses we call our homes. So what happens when you combine black, white, rich, poor, free and fugitive in a New Bedford neighborhood? Read on and discover the stories of the community located Behind the Mansions.
More