Parkway Closures and Construction in Progress

Please visit the Current Conditions page of our web site to see any potential closures, detours, or delays along the Parkway. More »
Stories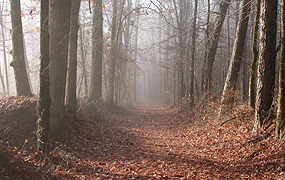 National Park Service
Sections of the Old Trace are the common ground that connect us to the stories of people across centuries. The most celebrated travelers of the Natchez Trace were farmers and boatmen from the Ohio River regions of Pennsylvania, Ohio, and Kentucky floating supplies down to ports in Natchez and New Orleans at the beginning of the 1800s. Regardless of where they came from, they were collectively known as "
Kaintucks
." But the story of the Natchez Trace is not just about the Kaintucks. The Old Trace ran through the heart of
Choctaw
and
Chickasaw
country. It also ran through a series of
mounds
that had been built by people over the previous 2000 years and through a diverse terrain of swamps, rivers, and rolling hills that provided significant obstacles for travelers.


Did You Know?

The terrain along the Natchez Trace Parkway changes from 70 to 1,100 feet in elevation and passes through 5 degrees of latitude.