Tennessee River Bridge (MP 327.4-MP 329) Construction Delays 3/11/14-3/15/14

The Tennessee River bridge will be partially closed, one lane at a time, on Tuesday, March 11, 2014 through Saturday, March 15, 2014. While short delays may be expected, it is not anticipated that the road work will require a detour at this time.
Portion of National Scenic Trail Near Tupelo Closed to Hikers

Part of the Natchez Trace National Scenic Trail (NOT the Parkway) near Tupelo, MS, has been closed until 2015 due to construction under Tupelo's Major Thoroughfare Construction Project. Parkway travelers may expect delays, but no detours are expected. More »
Kaintucks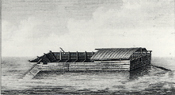 NPS Image
Although they were known as "Kaintucks," these boatmen floated merchandise down the Ohio and Mississippi rivers from states throughout the Ohio River valley. Agricultural goods, coal, and livestock were among the many products that were floated to markets in Natchez and New Orleans. Once the goods on the boats were sold, the boats were often dismantled and sold as lumber. Before the age of the steamboat, Kaintucks had little use for these flatboats once they reached their destinations.
From Natchez, the boatmen would begin the long walk home. They traveled the Natchez Trace to Nashville, Tennessee. From there, they used more established roads to take them to their homes further north and east. Research indicates that more than 10,000 Kaintucks traveled the Old Trace in the year 1810 alone. The 500 mile trip on foot typically took about 35 days. Lucky travelers that rode horses could expect to cover it in 20 to 25 days.


Did You Know?

The double arch bridge at milepost 438 on the Natchez Trace Parkway was completed in 1994 and received the Presidential Award for Design Excellence in 1995 for its innovative design. The bridge rises 155 feet above the valley and eliminates the need for spandrel columns.