Sequestration Effects on the Parkway

On March 1, 2013, the Parkway was required to reduce its annual budget by five percent, in accordance with the sequestration provision of the Budget Control Act of 2011. Click the link to learn about visitor center, restroom, and services impacts. More »
Portion of National Scenic Trail Near Tupelo Closed to Hikers

Part of the Natchez Trace National Scenic Trail (NOT the Parkway) near Tupelo, MS, has been closed until 2015 due to construction under Tupelo's Major Thoroughfare Construction Project. Parkway travelers may expect delays, but no detours are expected. More »
Pets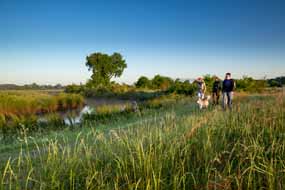 Image by Marc Muench.  NPS/©Muench
Pets are allowed along trails and viewpoints of the Natchez Trace Parkway under the following conditions:
Pets must always be on a leash six feet or shorter
Please clean up after your pet
Only service animals are allowed inside Parkway buildings.
Did You Know?

Meriwether Lewis, of the Lewis and Clark Expedition, was governor of the Upper Louisiana Territory when he died on the Natchez Trace in 1809, at Grinder's Stand in Tennessee.  A monument was erected in his honor in 1848 and can be seen along the Natchez Trace Parkway today.