Short Construction Delays Possible Near Tupelo, MS (milepost 264.4)

Repairs on a bridge will require one-lane closures of the Parkway for about 1/4 mile near Tupelo. Work is expected to be completed in fall of 2014. Please use caution due to construction traffic around the work area. More »
Portion of National Scenic Trail Near Tupelo Closed to Hikers

Part of the Natchez Trace National Scenic Trail (NOT the Parkway) near Tupelo, MS, has been closed until 2015 due to construction under Tupelo's Major Thoroughfare Construction Project. Parkway travelers may expect delays, but no detours are expected. More »
Pets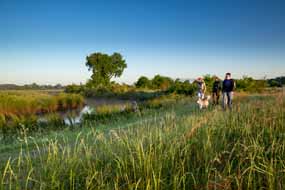 Image by Marc Muench.  NPS/©Muench
Pets are allowed along trails and viewpoints of the Natchez Trace Parkway under the following conditions:
Pets must always be on a leash six feet or shorter
Please clean up after your pet
Only service animals are allowed inside Parkway buildings.
Did You Know?

George Colbert operated a stand and ferry to cross the Tennessee River and is rumored to have charged Andrew Jackson $75,000 to ferry his army across the river.