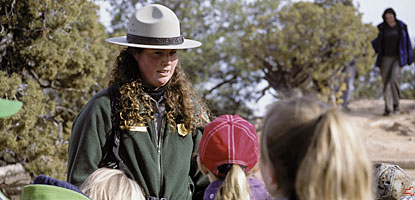 NPS Photo by Neal Herbert
Auto Touring
The scenic drive is open year-round. This paved, nine-mile loop provides access to all the bridges. Each may be viewed by walking a short distance to an overlook. An archeological site may also be viewed from an overlook along the scenic drive.
Camping
The 13-site campground is open year-round on a first-come, first-served basis. More...
Hiking
While many park features are visible from overlooks along the scenic drive, the true beauty of Natural Bridges lies just a short walk away from the pavement. Moderate hiking trails lead from overlooks to the base of each natural bridge, while longer loops hikes connect the bridges at the canyon bottom or on the mesa top. More...
Interpretive Programs
The Natural Bridges interpretive staff offers a variety of ranger-led activities spring through fall. Evening programs are presented in the campground amphitheater May through October (topics vary). Guided walks, overlook talks (along the loop drive) and patio talks (at the visitor center) are given throughout the week spring through fall. Times and topics vary. Please contact the park or check bulletin boards for current schedules.
Astronomy programs are presented in the front commons area at Natural Bridges Visitor Center on Wednesday and Thursday nights through October. All programs start at dusk. Contact the park for more information.