Fire Restriction Lifted
Date:
September 13, 2012
Contact:
Kate Cannon, Superintendent Southeast Utah Group
As of September 13, 2012, all fire restrictions which were enacted on June 12, 2012, under the authority of Title 36 Code of Federal Regulations (CFR), Part 1, Section 1.5(a)(1), and pursuant to 36 CFR 2.13(c), for Canyonlands and Arches national parks and Natural Bridges and Hovenweep national monuments are rescinded.  Most fire restrictions affecting public lands in Utah have also been lifted.  Information on statewide fire restrictions can be found here.
Did You Know?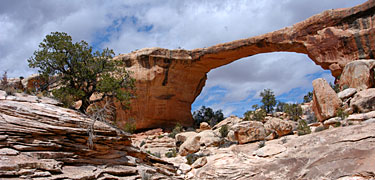 Sipapu means "the place of emergence," an entryway by which the Hopi believe their ancestors came into this world. Kachina is named for rock art on the bridge that resembles symbols commonly used on kachina dolls. Owachomo means "rock mound," a feature atop the bridge's east abutment.