Utah's First National Monument
Three majestic natural bridges invite you to ponder the power of water in a landscape usually defined by its absence. View them from an overlook, or hit the trails and experience their grandeur from below. Declared a National Monument in 1908, the bridges are named "Kachina," "Owachomo" and "Sipapu" in honor of the Native Americans that once made this area their home.
Read More
Did You Know?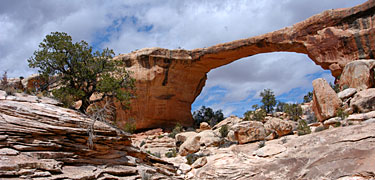 Sipapu means "the place of emergence," an entryway by which the Hopi believe their ancestors came into this world. Kachina is named for rock art on the bridge that resembles symbols commonly used on kachina dolls. Owachomo means "rock mound," a feature atop the bridge's east abutment.