The Dipsea Footbridge is Out!

The Dipsea Footbridge is out until further notice. Take the Deer Park Fire Road to connect with the Dipsea Trail at Muir Woods. See map of Muir Woods and Vicinity. Taking the extra steps protects you and endangered coho salmon. Do not cross Redwood Creek. More »
Muir Beach is OPEN

Muir Beach is open to the public every day, including holidays at 9 AM and closes one hour after sunset. More »
Directions
Address
Muir Woods National Monument
1 Muir Woods Road
Mill Valley, CA 94941
GPS Coordinates
Lattitude: 37 degrees 53.519 minutes North
Longitude: 122 degrees 34.253 minutes West
Driving to Muir Woods?
From San Francisco
Muir Woods is located 11 miles north of the Golden Gate Bridge.
Take Highway 101 North
Take the Mill Valley/Highway 1/ Stinson Beach Exit.
Follow the signs to Highway 1
Follow the signs to Muir Woods.
From the East Bay
Take the Highway 580/Richmond/San Rafael Bridge West
Take Highway 101 South
Take the Stinson Beach/Mill Valley Ext
Follow the signs to Highway 1
Follow the signs to Muir Woods
Vehicles over 35 feet long are prohibited. There are no RV parking facilities. RVs must park on the street.
For an interactive map, please visit maps.google.com/maps and type in Muir Woods National Monument.
Please refer to Traffic and Travel Tips and Travel Advisories for more details.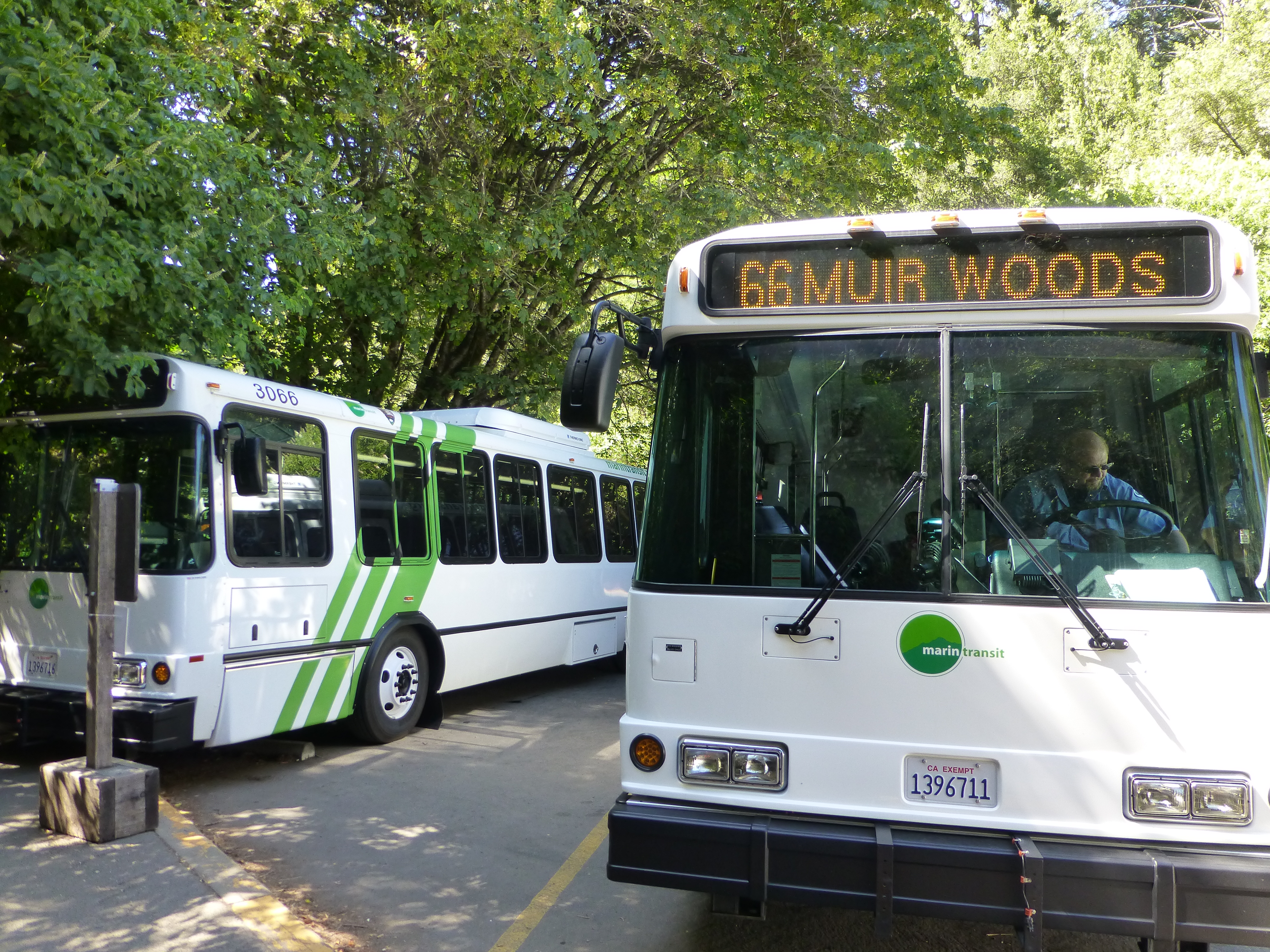 NPS photo by Ranger Lou Salas Sian
On weekends and holidays only, the Muir Woods Shuttle picks up passengers near Highway 101 where parking is more available and drops them off within steps to the Muir Woods entrance. The Muir Woods Shuttle operates from March 29, 2014 to October 26, 2014.Click here for details about schedules and Muir Woods Shuttle stops.


Transit & Trails

Find information on how to access any of the park's trails by walking, biking, car, and/or bus. Read More
Did You Know?

Every year Convergent Ladybugs migrate to Muir Woods from California's central valley seeking the cool refuge of the redwood forest. You can see them resting in large clumps on plants and fence posts.