Muir Beach Parking Lot Closed June-November 2013

This alert applies to Muir Beach, but not nearby Muir Woods. Muir Beach parking lot closed June-November 2013 for construction. Restrooms and parking will not be available at Muir Beach during this period. Check back for updates or call (415)561-3054.
Dipsea Foot Bridge at the Annex Lot is BACK!

The Dipsea foot bridge at the Annex Lot is back in place. Thanks to all who took the Deer Park Fire Road detour. Taking those extra steps helped to protect Redwood Creek and the endangered juvenile coho.
Directions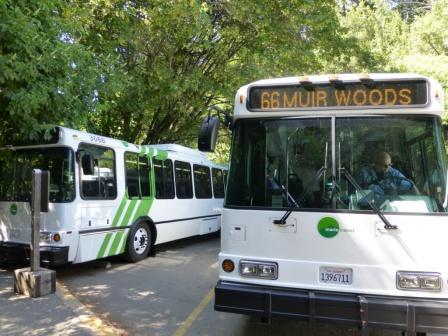 NPS photo by Ranger Lou Sian
This Summer Ride the Muir Woods Shuttle, Saturdays and Sundays Only, Plus Three Major Holidays!
Summer is Muir Woods' most busiest of months, especially on Saturdays and Sundays. Parking and traffic congestion on roads leading to the national park, can be difficult. The Muir Woods Shuttle provides a stress free ride to within steps to the Muir Woods entrance. Spend more time in Muir Woods and less time looking for parking by taking the Muir Woods Shuttle. The Muir Woods Shuttle is available on Saturday and Sundays only, as well as on the following holidays: Memorial Day (Monday, May 27, 2013), Independence Day (Thursday, July 4, 2013) and Labor Day (Monday, September 2, 2013). To view the Muir Woods Shuttle Route 66 schedule, bus stops, and fees, click here or visit marintransit.org.
The round-trip fare is $5 per person, 16 years and older. Children 15 years and younger are free. Pay at the Muir Woods Visitor Center for your shuttle fare ($5) plus the entrance fee ($7 per persons 16 years and older). Retain your receipt and show the driver to re-board the shuttle for your ride back to the parking lot or ferry.
You may catch the Muir Woods Shuttle at the Pohono Park and Ride off of Highway 101 or the Sausalito Ferry Terminal. For information, click here.
How to Get to Muir Woods, Mondays through Fridays
On weekdays, coming to Muir Woods on public transportation is challenging and requires hiking into the park from the nearest Marin Stagecoach bus stop. Public transportation does not come directly to Muir Woods. Read our brochure on Car-less Ways to Muir Woods.
Driving to Muir Woods?
Muir Woods is located 11 miles north of the Golden Gate Bridge. Take Highway 101 to the Highway 1/ Stinson Beach Exit. Follow the signs to Muir Woods. Roads to the park are steep and winding. Vehicles over 35 feet long are prohibited. Parking space is very limited and fills quickly on most days. There are no RV parking facilities. For an interactive map, please visit maps.google.com/maps and type in Muir Woods National Monument.
Please refer to Traffic and Travel Tips and Travel Advisories for more detailed directions from the San Francisco, Berkeley/Oakland, San Rafael/ Santa Rosa, and Stinson Beach/ Olema areas.
Using Computer and Internet Map
Muir Woods National Monument does not have a street address of the type used by search engines such as mapquest and yahoo maps. Because of this, map searches often direct people to the center of a zip code, which in the case of Muir Woods is several miles away. Always look at the map carefully to see if the destinations are actually labeled Muir Woods. Sometimes our address works, and sometimes it doesn't. Please be aware of this when using a map search engine.
If you are able to enter GPS coordinates into your search engine, the entrance to Muir Woods National Monument can be located at Latitude: 37 degrees 53.519 minutes (North)
Longitude: 122 degrees 34.253 minutes (West).
Muir Woods mailing address:
Muir Woods National Monument
Mill Valley, CA, 94941-2696
Try these "street" names as alternatives to "Muir Woods National Monument" that have worked for users in the past:
"Muir Woods Trail"
"Muir Woods"
"Frank Valley Rd"


Transit & Trails

Find information on how to access any of the park's trails by walking, biking, car, and/or bus. Read More
Did You Know?

A burl is a mass of dormant buds grown on the redwood's trunk.  In the event of a fire or flood disturbance a burl will vigorously sprout shoots each with the potential to become a mature tree.