All Trails at Muir Woods are Open. Green Gulch Trail at Muir Beach to Close

The Green Gulch Trail from Kaasi Road will be closed for restoration construction on the weekdays from 7 AM - 4:30 PM beginning early August through October 2014. Full trail access will be available during evening hours and weekends. Signs will be posted. More »
7 Ranger's Tips on How to Experience Muir Woods Safely This Summer or How to Find Parking

Summer is the busiest for Muir Woods. Parking is limited. Often visitors find shoulder parking and walk on the narrow road to the Visitor Center. Read the ranger's tips on the Best Times to Visit Muir Woods. On weekends & holidays, take Muir Woods Shuttle More »
Ride the Muir Woods Shuttle. Summer is the busiest time for Muir Woods. Parking limited.

Muir Woods is experiencing high numbers of visitors. Summer traffic and unsafe parking behaviors are adding stress to visitors and residents. Expect delays on Hwy 1 as people drive to and from Muir Woods and local beaches. Read 7 Ranger's Tips on Parking. More »
Muir Beach is OPEN but Muir Beach Overlook closed until August 1, 2014.

Muir Beach is open but the Muir Beach Overlook is closed for construction until August 1, 2014. Muir Beach is open to the public every day, including holidays at 9 AM and closes one hour after sunset.
Directions
Address
Muir Woods National Monument
1 Muir Woods Road
Mill Valley, CA 94941
GPS Coordinates
Lattitude: 37 degrees 53.519 minutes North
Longitude: 122 degrees 34.253 minutes West
Driving to Muir Woods?
From San Francisco
Muir Woods is located 11 miles north of the Golden Gate Bridge.
Take Highway 101 North
Take the Mill Valley/Highway 1/ Stinson Beach Exit.
Follow the signs to Highway 1
Follow the signs to Muir Woods.
From the East Bay
Take the Highway 580/Richmond/San Rafael Bridge West
Take Highway 101 South
Take the Stinson Beach/Mill Valley Ext
Follow the signs to Highway 1
Follow the signs to Muir Woods
Vehicles over 35 feet long are prohibited. There are no RV parking facilities. RVs must park on the street.
Click here for an interactive map with driving directions to Muir Woods National Monument.
Please refer to Traffic and Travel Tips and Travel Advisories for more details.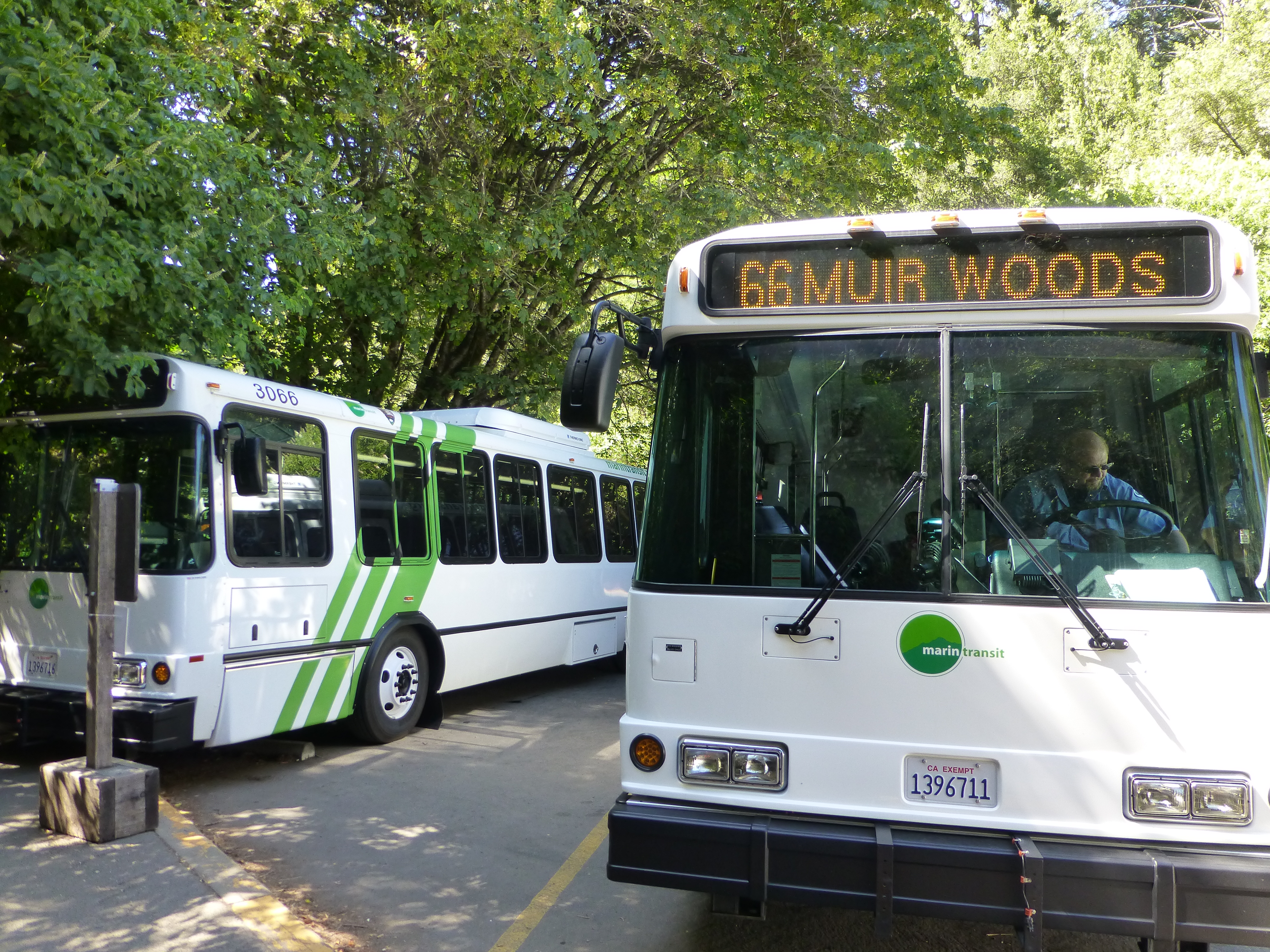 NPS photo by Ranger Lou Salas Sian
On weekends and holidays only, the Muir Woods Shuttle picks up passengers near Highway 101 where parking is more available and drops them off within steps to the Muir Woods entrance. The Muir Woods Shuttle operates from March 29, 2014 to October 26, 2014.Click here for details about schedules and Muir Woods Shuttle stops.


Transit & Trails

Find information on how to access any of the park's trails by walking, biking, car, and/or bus. Read More
Did You Know?

Volunteers and staff of Redwood Creek Nursery and Muir Woods National Monument have planted approximately 20,000 plants along Redwood Creek since 2003. More...