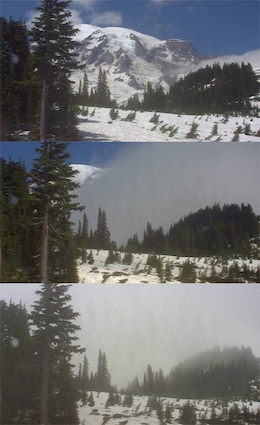 NPS Webcam Photos
Is the mountain out? What's the weather like in the park? Are the parking lots at Paradise and Sunrise full? Check out Mount Rainier's live webcams to find out:
Paradise Area
Mountain
East
West
Visitor Center
Tatoosh
Air Quality
Camp Muir - Down for winter; returning summer 2015

Longmire Area
Longmire
Carbon Area
Carbon River
Sunrise Area
NOTE: Down for the Winter - Check back in summer 2015!
Sunrise Mountain
Sunrise East
The air quality webcam is part of the NPS air quality web camera network. Images are updated every 15 minutes. Visit the NPS Air Resources site for more air quality data- including ozone, particulate matter, visual range, and weather conditions- that are updated hourly.