Lower speed limits are temporarily in effect until road damage can be repaired

The Superintendent has temporarily reduced the posted speed limit from 55 mph to 45 mph on all roads within the preserve as road crews work to repair damage from recent heavy rains. Call 760 252-6108 for more information.
Watch for storm damage on all roads

Recent storms have caused flash flooding and damage to roads. Reduce speed and use caution when traveling through the park after storms. Call 760-252-6100 or 760-252-6108 for updates. Check our Current Conditions page for information on specific roads. More »
Camping and Traveling with Horses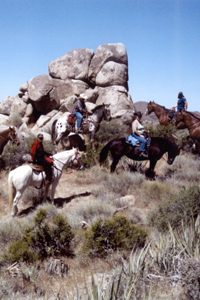 Sisto Cordova
Horses and riders are welcome in Mojave National Preserve! Horses and/or other pack animals (llamas and mules) are permitted on all trails, backcountry roads, and open country (including wilderness areas) within the preserve.
Developed camping facilities are available at the Black Canyon Equestrian & Group Campground. Backcountry users should familiarize themselves with guidelines and regulations for backcountry travel and camping, as well as the following:
Free-trailing or loose-herding is prohibited throughout the preserve

Ranging/grazing is prohibited; Livestock must be fed certified weed-free hay or pelleted food before arrival and during their stay in the preserve.

All manure should be raked out and spread over a large area.

Horse camps should be at least 200 yards from a water source.
Horse rentals are currently unavailable in the preserve. So, bring your own horse (B.Y.O.H.).


Did You Know?

The venom of the Mojave rattlesnake is extremely toxic and causes more respiratory distress than that of any other North American rattlesnake. Due to its unique hue, it is known locally as the Mojave green.