Kelso Depot Visitor Center hours

Kelso Depot Visitor Center is open Fridays through Tuesdays from 9 am to 5 pm, closed Wednesdays and Thursdays. The Beanery Lunch Counter is closed.
Watch for storm damage on all roads

Recent storms have caused flash flooding and damage to roads. Reduce speed and use caution when traveling through the park after storms. Call 760-252-6100 or 760-252-6108 for updates. Check our Current Conditions page for information on specific roads. More »
Camping and Traveling with Horses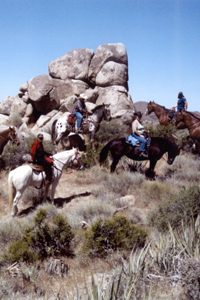 Sisto Cordova
Horses and riders are welcome in Mojave National Preserve! Horses and/or other pack animals (llamas and mules) are permitted on all trails, backcountry roads, and open country (including wilderness areas) within the preserve.
Developed camping facilities are available at the Black Canyon Equestrian & Group Campground. Backcountry users should familiarize themselves with guidelines and regulations for backcountry travel and camping, as well as the following:
Free-trailing or loose-herding is prohibited throughout the preserve

Ranging/grazing is prohibited; Livestock must be fed certified weed-free hay or pelleted food before arrival and during their stay in the preserve.

All manure should be raked out and spread over a large area.

Horse camps should be at least 200 yards from a water source.
Horse rentals are currently unavailable in the preserve. So, bring your own horse (B.Y.O.H.).


Did You Know?

Mojave National Preserve is a great place to explore by 4-wheel drive vehicle. Over a thousand miles of dirt roads are open for exploration. Driving off-road is not allowed. More...