Portable toilets at Kelso Depot Visitor Center

The water system at Kelso is shut down due to problems with the storage tank. Portable toilets are available; bottled water is available for purchase. Campers note-you won't be able to fill water bottles at Kelso until the system is repaired.
Telephone at Kelso Depot is not working

Kelso Depot Visitor Center telephone, 760 252-6108, is not working. For information on weekdays, call 760 252-6100. On Saturday, try calling 760 252-6104.
Kelso Depot Visitor Center hours

Kelso Depot Visitor Center is open Fridays through Tuesdays from 9 am to 5 pm, closed Wednesdays and Thursdays. The Beanery Lunch Counter is closed.
Camping and Traveling with Horses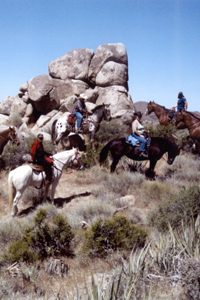 Sisto Cordova
Horses and riders are welcome in Mojave National Preserve! Horses and/or other pack animals (llamas and mules) are permitted on all trails, backcountry roads, and open country (including wilderness areas) within the preserve.
Developed camping facilities are available at the Black Canyon Equestrian & Group Campground. Backcountry users should familiarize themselves with guidelines and regulations for backcountry travel and camping, as well as the following:
Free-trailing or loose-herding is prohibited throughout the preserve

Ranging/grazing is prohibited; Livestock must be fed certified weed-free hay or pelleted food before arrival and during their stay in the preserve.

All manure should be raked out and spread over a large area.

Horse camps should be at least 200 yards from a water source.
Horse rentals are currently unavailable in the preserve. So, bring your own horse (B.Y.O.H.).


Did You Know?

Mojave National Preserve was established in 1994 through the California Desert Protection Act. Now managed by the National Park Service, the area was known as the East Mojave Scenic Area, under the Bureau of Land Management.