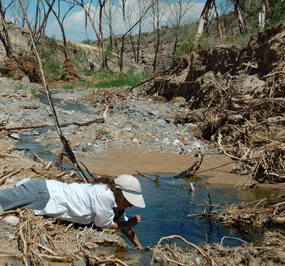 NPS Photo
Seasonal variations in the presence of water is common at many small springs in Mojave National Preserve; some may go dry during periods of drought. Each fall, volunteers from all over California, Nevada, and Arizona-including many from Quail Unlimited and the Society for the Conservation of Bighorn Sheep-head to springs in the Preserve to monitor water supplies used by wildlife. The 2012 Spring Snapshot Survey will take place from September through November. The National Park Service is seeking volunteers with four-wheel drive vehicles and GPS units who are willing to visit desert springs, record their observations, and return the information to NPS researchers. This year we will be adding ibutton® data loggers to the survey protocol.
To learn more about springs and seeps in Mojave National Preserve, visit Springs and Seeps Introduction or the Springs and Seeps Catalog.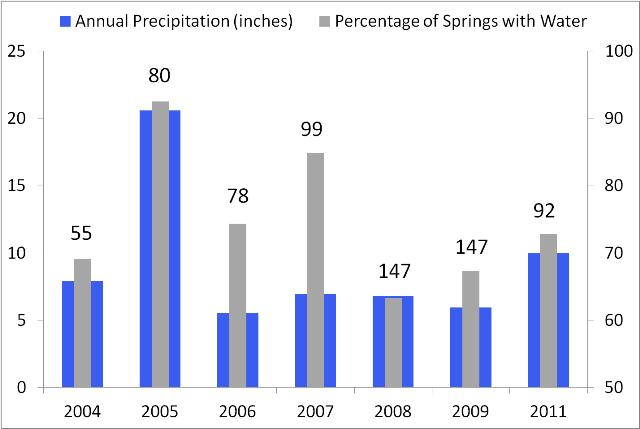 This chart shows the relationship between annual precipitation (from October through September) and the percentage of springs and seeps with water. During dry years, such as 2004, ephemeral springs go dry while in wet years, such as 2005, they flow. Ephemeral springs may persist for a few dry years (2006 and 2007) if the perched aquifers have been recharged during a wet year (2005). The numbers at the top of the bars indicate the number of springs surveyed in a given year. Annual precipitation at Mid Hills is indicated on the left axis in inches and percentage of surveyed springs with water is shown on the right axis.