Change in Operation Hours & Seasons

Moores Creek National Battlefield's operating hours have changed. Please see Operating Hours & Seasons for more information.
Access to Moores Creek Bridge Closed for Trail Maintenance

Due to recent storms, hiking trail acces to Moores Creek Bridge along the History Trail is limited. The rest of the park trails, including access to monuments and the battlefield is still accessible. Please call the park for further updates.
Event Schedule 2013-2014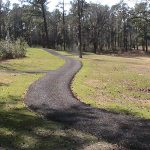 Something For Everyone
Picnic Area:
When planning an outing to Moores Creek, be sure to pack a picnic. Feel free to take advantage of our charcoal grills, picnic tables, and pavilion. The family pet can also enjoy the trials and picnic area while on a leash. The picnic area is open year round and is a great way to enjoy a beautiful North Carolina day.
Junior Ranger Program:
Have the kids become official Junior Rangers while visiting Moores Creek. Our Junior Ranger program is suited for all ages. After completion of the work book, kids will be sworn in and receive their official Ranger badge and patch.
Guided Tours:
Want to know a little more about the history of the park? Ask a Ranger for a guided tour. Pending staff availability, park Rangers are available to give tours seven days a week with all tours being free of charge.
Planning Your Next Big Event
From business meetings to wedding receptions, Patriots Hall could be just what you're looking for. We provide tables and chairs with room to fit up to 200 people. Park Rangers are available to give interpretive tours and programs ranging from pine forest restoration to historical weapons. We have programs for all ages. Please contact a Ranger for details.
Did You Know?

The Heroic Women's Monument at Moores Creek National Battlefield is believed to be the only monument in America to 18th century women and their sacrifices during the American Revolution.