River Reach Guides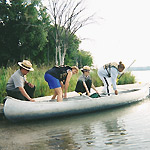 The Missouri National Recreational River consists of two reaches:
39 miles from Fort Randall Dam to Running Water, South Dakota,(along with the lower 20 miles of the Niobrara River and the lower 8 miles of Verdigre Creek) and
59 miles from Gavins Point Dam to Nebraska's Ponca State Park.
Description and location of launch sites are included for each reach.
Did You Know?

Yankton, on the Missouri River, was the first capital of the Dakota Territory. This area included the states of South Dakota, North Dakota, Montana, Wyoming, and parts of Idaho and Nebraska.