River Reach Guides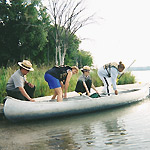 The Missouri National Recreational River consists of two reaches:
39 miles from Fort Randall Dam to Running Water, South Dakota,(along with the lower 20 miles of the Niobrara River and the lower 8 miles of Verdigre Creek) and
59 miles from Gavins Point Dam to Nebraska's Ponca State Park.
Description and location of launch sites are included for each reach.
Did You Know?

Before the 1950s, the Missouri River carried an average of roughly 140 million tons of sediment per year past Yankton. After closure of the dams in the 1960s, an average of roughly 4 million tons per year moved past the same location.