Pine Bend Bluff Scientific and Natural Area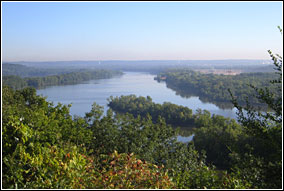 Overview
This area represents one of the largest relatively undisturbed natural areas left in the Twin Cities metro area. A partnership of government and non-government agencies and organizations cooperated in preserving this property in its natural state. Since 1991, volunteers have removed invasive species and replanted using prairie grasses and forbs to restore this area to a more natural system.
Pine Bend Bluff provides spectacular views of the Mississippi River from bluffs overlooking the river valley. The park consists of savanna, oak forest, and dry prairie. Native grasses and forbs, including spring flowers, are also attractions. Pine Bluff SNA is 256 acres in size; one parcel is accessible only by river.
Activities: Since this is a state scientific and natural area, low-impact only activities are allowed. Hiking, nature study, bird watching, and photography opportunities abound.
Parking Instructions: Pine Bend Bluff SNA is located in Inver Grove Heights. Travel south on US Hwy 52 about 7 miles and turn north on 117th Street. Drive 3/4ths mile on the east frontage road and arrive at the SNA. Visitors should park between the parking signs just past 111th Street intersection.
Contact Information: See the Minnesota Department of Natural Resources website for more information on this parcel and to obtain information about visiting Scientific and Natural Areas.
Did You Know?

Over 600 men worked around the clock using hand tools, horses and coal powered shovels to build the original Coon Rapids Dam in 1913. The dam was rebuilt between 1995 and 1997.