Marshall Terrace Park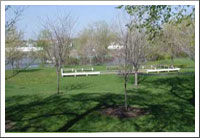 Overview
A quiet neighborhood park with two large playgrounds. Picnic tables are scattered across the park or one can sit on the grass beneath the shades of a tree. Another attraction during the summer time is the Marshall Terrace Park Pool.
On one side of the park is the busy Marshall Street and on other is the busy Mississippi River. Barges can easily be seen moving up and down the river. A trail also runs through the park looping from the 694 bridge to St. Anthony Parkway.
Activities: Biking, hiking, picnicking, wading pool.
Hours: Please call for more information.
Contact Information: Call the Minneapolis Park and Recreation Board at 612-230-6400.
Sites Nearby:
Gluek Park
, Weber Park, Edgewater Park
Did You Know?

A canoe trip in the Mississippi River Gorge between Minneapolis and St. Paul, MN feels like you are miles away from civilization even though you are in the center of a large metropolitan area.