Learn How to Fish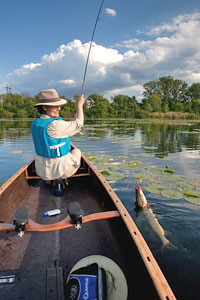 Participants at our public events learn about fish and aquatic life, how to fish, and what fish are likely to be caught. Both adults and youth are welcome. These events are a great way to introduce youth to fishing and for adults who would like to regain their fishing skills.
The Mississippi National River and Recreation Area provides all of the tackle, including rods/reels and bait.
Fishing Events and Workshops
Event: Building a Personal Fishing Kit
Date: Sep 21, 2013
Time: 9:30 a.m. – 3:30 p.m.
Location: Fort Snelling State Park – Meet at the Visitor Center's Minnesota Room.
Description: On the morning of this day-long event, participants will assemble a personal fishing kit consisting of a rod/reel combination and tackle used to catch fish in both rivers and lakes. (Participants keep their fishing kits.) Participants will also learn how to rig their rods to catch specific fish species and be introduced to fishing regulations and opportunities to fish in the Twin Cities area. After lunch we will hike to and fish both a lake and a river to gain practical experience in using our new equipment and knowledge.
Wear shoes that are comfortable and that can get wet and muddy. Consider bringing water, sunglasses, hat, jacket and sun screen depending upon the weather.
Fees: $35.00 (Mississippi River Fund members: $30.00. Admission to Fort Snelling State Park is through a state park annual pass or a $5 per vehicle daily pass paid at the park's entrance; it is not included in the program fee.
Reservations: Reservations may be made at Mississipi River Fund website by September 18. Ten fishing outfits are available on a first-come, first-serve basis.
Group Programs
We provide specialized fishing programming for groups, such as community groups, community centers, church groups, and community park and recreation departments in communities along the Mississippi River. As in our public programs, we provide fishing tackle and bait. Schedule an event by calling Ranger Gordon Dietzman at (651) 293-8410 or contact him using e-mail.
---
Want to just go fishing, but lack tackle?
Stop by the Mississippi River Visitor Center and pick up free rental tackle.
Links of Interest
Take Me Fishing
This website does a good job of describing the various facets of fishing, from choosing tackle to fish conservation.
Casting a Spinning Reel
This video shows how to make long and accurate casts using a spinning reel.
Which Lure to Use?
Different artificial lures work best under different conditions. This video shows how different types of artificial lures are used.
Twin City Bait Shops
The Minnesota Department of Natural Resources has some suggestions on their website for bait shops in the Twin City area. In addition, check out the phone book or look online for additional bait shops.
NOTE: Please discard all excess live bait--such as earthworms and minnows--in the trash. Do not release bait in or near the water. Earthworms are not native to Minnesota and have a detrimental effect on our forests. Bait minnows sometimes contain small, non-native fish that can be detrimental to our rivers and lakes.
Fishing Licenses
Fishing licenses can be purchased at sporting goods stores, some gas stations, and at DNR locations. They may also be purchased online or by telephone. New for the 2013 fishing season is an annual $5 Youth fishing license for those ages 16 and 17.
Find an Access Point
Search for river access points (boat ramps, walk-ins, piers and platforms) in the Mississippi National River and Recreation Area.
Did You Know?

The Mississippi River Basin, or watershed, drains 41% of the continental United States including 31 states and 2 Canadian provinces.