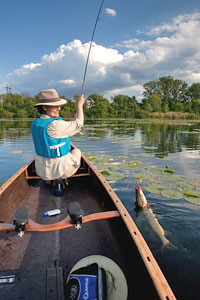 Gordon Dietzman
Participants at our public events learn about fish and aquatic life, how to fish, and what fish are likely to be caught. Both adults and youth are welcome. These events are a great way to introduce youth to fishing and for adults who would like to regain their fishing skills. The Mississippi National River and Recreation Area provides all of the tackle, including rods/reels and bait.
2015 Fishing Events and Workshops

Take-a-Kid-Fishing (June 6, 2015)
Time: 1:00-4:00 pm
Location: Pickerel Lake, Lilydale Regional Park (approx. address 999 W Water St., St Paul, MN 55118, GPS Coord. 44.921295, -93.119076
License requirements are waived for adults age 16 and older if accompanied by a youth age 15 or younger. This is a great opportunity to get outside with the kids or grandkids to experience summer fishing. Bait and equipment is supplied. Mark your calendar now.
Take-a-Kid-Fishing (June 7, 2015)
Time: 1:00-4:00 pm
Location: Thompson Park, 360 Butler Avenue East, West St. Paul, MN 55118
Join Dakota County, Minnesota Department of Natural Resources, and National Park Service Rangers at Thompson Park for a fun day of fishing, fishing games, and other events. Fishing equipment and bait is provided. Adults accompanied by youth age 15 and younger get to fish for free on this Take-a-Kid-Fishing Day. This is a fun day for the entire family.
Build a Fishing Kit (July 25, 2015)
TIme: 9:00 am - 3:00 pm
Location: Fort Snelling State Park: Thomas C. Savage Visitor Center (101 Snelling Lake Road, St. Paul, MN)
Join state park and national park rangers at this exciting event. During the morning session participants assemble a fishing kit consisting of a rod/reel combo and the tackle needed to catch common fish found in the Minneapolis/St. Paul area. Each piece of tackle is explained as to its use and what species of fish it is most likely to attract. After lunch (bring your own) we will take our kits and go fishing on both a lake and, after a short hike, a river. Participants will learn a number of productive fishing techniques and learn to read the river to find the most productive locations. Multiple fishing kits can be purchased at $30-$35 each. The entire family, however, is welcome to attend regardless of the number of kits purchased. Fishing licenses are not required for this program, although admission to the state park is required ($5/vehicle or $25 annual). Bring a hat, shoes that can get muddy, and wear clothing appropriate for the weather on event day. Call 651-293-8410 for more information. Registration and payment is made through the Mississippi River Fund;we will provide a link to the registration process soon.
Group Programs
We provide specialized fishing programming for groups, such as community groups, community centers, church groups, and community park and recreation departments in communities along the Mississippi River. As in our public programs, we provide fishing tackle and bait. Schedule an event by calling 651-293-8410.
---
Links of Interest
Take Me Fishing
This website does a good job of describing the various facets of fishing, from choosing tackle to fish conservation.
Casting a Spinning Reel
This video shows how to make long and accurate casts using a spinning reel.
Which Lure to Use?
Different artificial lures work best under different conditions. This video shows how different types of artificial lures are used.
Twin City Bait Shops
The Minnesota Department of Natural Resources has some suggestions on their website for bait shops in the Twin City area. In addition, check out the phone book or look online for additional bait shops.
NOTE: Please discard all excess live bait--such as earthworms and minnows--in the trash. Do not release bait in or near the water. Earthworms are not native to Minnesota and have a detrimental effect on our forests. Bait minnows sometimes contain small, non-native fish that can be detrimental to our rivers and lakes.
Fishing Licenses
Fishing licenses can be purchased at sporting goods stores, some gas stations, and at DNR locations. They may also be purchased online or by telephone. New for the 2013 fishing season is an annual $5 Youth fishing license for those ages 16 and 17.
Find an Access Point
Search for river access points (boat ramps, walk-ins, piers and platforms) in the Mississippi National River and Recreation Area.