The Brickyards of St. Paul
St. Paul Parks and Recreation
950 Lilydale Road, Saint Paul, MN 55118
Parking is 1/2 mile southwest of the intersection of Water Street and Smith Avenue.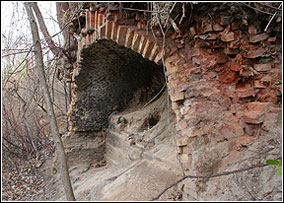 NOTE: Trails and some locations within this section of Lilydale Regional Park have been closed due to unstable slopes until further notice. Please do not cross barriers or enter closed areas.
Overview
The Brickyard was the site of the Twin Cities Brick Company, which was founded in 1894 and continued to make bricks until the 1970s. The interest in brick-making boomed after a number of local villages and cities, constructed primarily of wood, burned during catastrophic fires during the late 1800s.
This location is the site of one of many such brick-making operations. Workers quarried Decorah shale on the bluff above this location and brought it down the steep hillside where it was processed and fired into bricks.
Visitors to the site can still see ruins of a brick kiln at the base of the bluff and several quarries higher on the hill. The Twin Cities Brick Company supplied bricks used in building numerous buildings around the Twin Cities, including the St. Paul Hotel.
This wooded area is located within the Lilydale—Harriet Island Regional Park. Visitors can view the brick kiln ruins and the quarries. Water seeping from the walls of the quarry freezes in the winter forming large frozen waterfalls. There are also two small waterfalls near the trails. There are no restrooms or drinking water at this site.
Activities: A level trail leads from the parking lot (be prepared for mud during inclement weather) to the brick kiln. Visitors can hike a graveled trail from the kiln up the steep hill to the quarries. Fossil collecting near the quarries is permitted but requires a permit.
Hours: 7:30 a.m. to 10:00 p.m., unless otherwise posted.
Contact Information: Contact the St. Paul Parks and Recreation for more information at (651) 632-5111 and to obtain a fossil collecting permit.