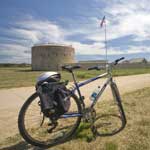 A Confluence of Rivers and Peoples
Location: Coldwater Spring to Historic Fort Snelling
Date: June 20, 2015
Time: 10am-12pm

Distance: 5 miles

Notes: Limited free parking at Coldwater Spring. This tour may cross a bridge which includes staircases with bike treadway where bike trailers must be carried.

How has this area changed through time and what was its role in American history? This formal tour includes interpretive stops at Coldwater Spring, Historic Fort Snelling, Fort Snelling's upper post, and will conclude at the Boy Scouts' Base Camp facility.