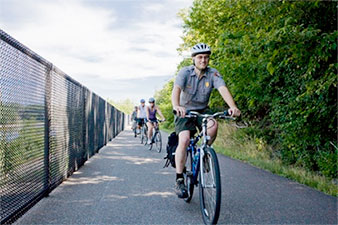 Bike with a Ranger is a family-friendly way to explore the Mississippi River. Join us this summer for a variety of formal and informal tours along the river.
Cost: Free
Trip Information
We've made a few changes to our bike program for 2015. This year, we're testing new ideas and adding informal, drop-in tours. All tours are paced at a family friendly speed. Most tours begin at 10am and vary in length from one mile informal tours to nine mile formal tours. Contact
Brian Valentine
for more information.
Registration Information
Registration is required for formal tours. These rides are limited to 20 participants. Please contact Brian Valentine at 651-293-8428.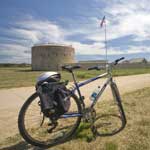 A Confluence of Rivers and Peoples
Location: Coldwater Spring to Historic Fort Snelling
Date: June 20, 2015
Time: 10am-12pm

Distance: 5 miles

Notes: Limited free parking at Coldwater Spring. This tour may cross a bridge which includes staircases with bike treadway where bike trailers must be carried.

How has this area changed through time and what was its role in American history? This formal tour includes interpretive stops at Coldwater Spring, Historic Fort Snelling, Fort Snelling's upper post, and will conclude at the Boy Scouts' Base Camp facility.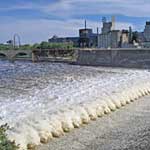 Minneapolis Riverfront
Location: Minneapolis riverfront, near Plymouth Avenue.
Date: September 26, 2015
Time: 9am-12pm

Distance: 9 miles

Minneapolis is a river city that's play an extraordinary role in modern history. The ingenuity of its citizens spurred its development into a regional and worldwide economic powerhouse. This is a new route for 2015.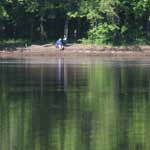 The Gorge's Fall Colors
Location: River trails between Ford Parkway and Lake Street bridges
Date: October 17, 2015
Time: 10am-12pm

Distance: 6 miles

Notes: Meet at Ford Dam overlook (Google Map).

This is a new route. While Harriet Island's nearby trails are closed this summer, we'll ride atop the river gorge. Join us to explore the river's natural and human characteristics during (hopefully!) peak fall colors. This is a great orientation ride to the Mississippi River.
Drop-in Tours
Location: Stone Arch Bridge area
Dates: July 4 & 18, August 1 & 15
Time: 10am, 11am, & 12pm

Distance: 1.25 miles

Notes: Meet at the Nice Ride MN station (#30154) on 2nd St. and 11th Ave.

Join the ranger for an informal tour of the falls area to see some of the features that made Minneapolis an economic force. This is a very short ride that crosses the Stone Arch Bridge or meanders upstream to the "first bridge," your choice. Participants can rent a bike from the Nice Rice station. Most tours will be complete in about 30 minutes.