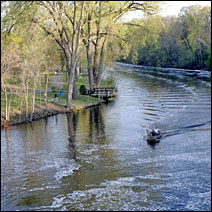 Overview
The 6.5 acre Akin Riverside Park lies on the east bank of the Rum River just north of the Rum's confluence with the Mississippi River. Akin is an urban park with the usual city park amenities of playground and picnic areas. In addition, it has outstanding historic markers describing the area's development.
The Anoka Historic Rum River Regional Trail runs through the park and a footbridge crosses the Rum River. Visitors can see the historic Eastman Amphitheater and stone house from the footbridge. The park also has numerous exhibits that describe the area's history. An interpretive exhibit at a storm water retention pond describes how the pond processes storm water preserving the quality of water flowing into the Rum River. There are also two fishing platforms, a boat launch, playground, and picnic tables/shelters and grills within this urban park.
Hours: 6 a.m. through 11 p.m., unless posted otherwise.
Contact Information: Call the City of Anoka Parks & Recreation at (763) 576-2980 for more information.