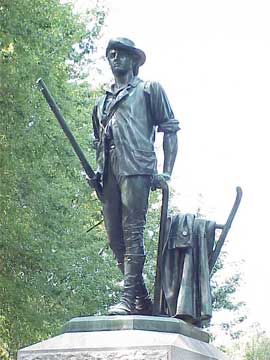 The decade-long political feud between the British government and the American colonists, determined to retain their rights as British subjects, came to a devastating climax as British regulars clashed with colonial militia and minute men on April 19, 1775 at Lexington, Concord's North Bridge and on the long, bloody road back to Boston. The fighting that began that day soon grew into a war for independence that lasted more than eight years. Many years later, Ralph Waldo Emerson used the phrase "the shot heard round the world" to describe the significance of this event.
Follow these links for information about the openning battle of the American Revolution (April 19, 1775) that answer some of our most frequently asked questions.
Search for a soldier!
Visit our "Friends of Minute Man National Park" website for a searchable database of company muster rolls from April 19, 1775.
NOTE: The muster rolls were complied in 1912 by Frank W. Coburn and contain only those companies that are believed to have been engaged in combat on April 19, 1775.