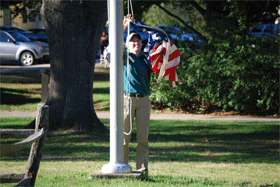 At Minute Man National Historical Park there are many different volunteer opportunities to choose from: visitor center guide, North Bridge interpreter, education program assistant, Whittemore House guide, interpretation intern, costumed interpreter, and trail clean-up crew, to name a few. For the 2015season, we are recruiting for the following positions. If any of these positions interest you, please apply.
---
Visitor Center Guide
Visitor Center Guides primarily help park rangers staff the visitor centers and provide customer service and orientation for visitors. They introduce the multi-media show, answer questions, and provide informal interpretation.
North Bridge Interpreter
North Bridge interpreters prepare and present formal, fifteen-minute interpretive talks called "Some Were For Making a Stand" and staff the area of the North Bridge, providing informal interpretation and guidance for visitors. Duty is sometimes shared with park staff or another volunteer.
Education Program Assistant
Education Program Assistants assist park rangers in presenting special curriculum-based programs for visiting school groups. Teachers make reservations in advance and pay a fee for the program. Programs are presented April-June and September-mid-November for approximately 15,000 students annually. Volunteers facilitate arrival for groups, serve as safety officers during musket-firing demonstrations, answer questions, provide direction, and assist with program operations.
Battle Road Trail Guide
These volunteers roam the numerous trails in the park, either on foot or bicycle,stopping to offer informal interpretation, directions, safety information and park literature to visitors they encounter.They will also explain the access to the Cell Phone Tour of the Battle Road for visitors. They can report unsafe conditions or situations to our Protection division. Persons who enjoy hiking, cycling or even walking their dog in the park will find this to their liking.
Whittemore House Guide
House Guides provide orientation, informal historical interpretation, answer questions, assist with hands-on activities, record statistics, and provide directions. The Whittemore House, one of the park's "witness houses," stands on the Battle Road Trail in Lexington, behind Minute Man Visitor Center. Three activity-based "stations" provide a "window" onto colonial life for visitors to the first floor of the Whittemore House. Activities invite visitors to explore food, clothing, and work vs. leisure in 1775.
Interpretation Intern
Full-time, 12-week internships offering a modest stipend and park housing are generally offered at the park each season. These positions are project-funded and applicants are selected through the Student Conservation Association (SCA). To see what positions are available and to apply, visit www.thesca.org. Submit an application for a conservation intern position at Minute Man National Historical Park, as early as January 2015 to begin in late May or early June, and concluding in August 2015. The interpretation, visitor services, historical research, living history, and operations duties of these positions are described on the SCA website.
Learn about a new opportunity from SCA, NPS Academy!
Other unpaid opportunities for students may also be available. The Volunteer Coordinator or the Chief of Interpretation and Education at the park will work with a candidate to develop an internship program to meets your course requirements. A firm time commitment is required but the number of hours and schedule worked can be flexible. To apply for a customized internship, submit a volunteer application, a resume, and a letter describing your request and the requirements of your course of study or program. Applications must be submitted by March 1, 2015. Selections will be announced after April 1, 2015.
Living History Interpreter
Minute Man National Historical Park has a vibrant and active living history program and we are always looking for new recruits. Applicants must have their own clothing and accouterments appropriate to their impressions and be vetted by a team of experienced reenactors. Training and assistance is available for those new to the "hobby." For more information, please contact Jim Hollister: (978) 318 - 7829 e-mail us
For more information about authenticity standards see Battle Road Authenticity Standards.
---
Major Duties for All Interpreter Positions:
Volunteers work independently on a regular basis, presenting talks and hands-on activities to adults and children about the story of the park. All volunteers:
Interact with the public
Greet walk-in visitors
answer any questions, provide directions
Answer telephones and provide information
Assist with sales in Eastern National Museum Stores
Conduct sales transactions using the cash register
Help staff keep overall visitor center appearance neat and clean
Assist staff with reserved, scheduled programs
Check reservation lists for all advertised programs, informing participants of time, location and any special details.
Communicate. Alert NPS staff to safety hazards, complaints, equipment out-of- order, scheduling difficulties.
Tour of Duty
Volunteers are needed to staff visitor services positions daily, 9 a.m. to 5 p.m. Duty is usually scheduled in four-hour time slots: morning (9 a.m. to 1 p.m.) and afternoon (1 to 5 p.m.). Volunteers may fill either or both slots on a given day, depending on interest and staffing needs.
Training
Interpretive training and materials for learning about the park will be provided for all volunteers in any of the positions listed above. Topics to be covered include: introduction to the National Park Service, orientation to Minute Man National Historical Park, customer service, interpretation skills, visitor services operations, and additional topics specific to the duties of each position. For specialized living history training, The Hive is the best source.
For volunteers, there will be two introductory training sessions only this year.Introduction to Park Operations for Visitor Center Guides, Wayside House interpreters, North Bridge Interpreters, Battle Road trail guides, and Witness House interpreters will take place on Saturday, May 30, 2015 and Saturday, September 12, 2015. All volunteer applications for the summer season must be received by May 20, 2015, and those for the fall must be received by September 2, 2015.
Uniform
Volunteers will be expected to wear a uniform and nameplate identifying them as a volunteer of the National Park Service. When out-of-doors, volunteers wear headgear and appropriate outerwear. The National Park Service provides a shirt, cap, and outerwear.
How to Apply
If this sounds right for you, we welcome your application and would like to meet you. Applications are received by our volunteer coordinator, who reviews them and then sets up interviews. Appointments to volunteer positions are made to coincide with our volunteer training schedule. Sessions are usually held in May or June for summer season and in late August or early September for our fall season. The availability of volunteer positions will vary according to staffing levels and workloads in the park.
No park housing and no trailer pads are available at the park. Volunteers must provide their own transportation to and from the park and between duty stations within the park.
To become a volunteer at Minute Man National Historical Park, fill out a volunteer application. Pick up your application at Minute Man Visitor Center, North Bridge Visitor Center, or call the park's volunteer coordinator at 978.318.7824 to request an application by mail. You can also download a volunteer application
For further information, contact:
Roger Fuller Volunteer Coordinator
Minute Man National Historical Park
174 Liberty Street, Concord, MA
01742
978-318-7824
roger_fuller@nps.gov