Free Teachers Workshop at Manzanar
Join an informative and dynamic exchange about the incarceration of Japanese Americans across the Pacific West. Utilizing a regional perspective, we expand Manzanar's "One Camp, 10,000 Lives; One Camp 10,000 Stories" theme to draw deeper conclusions and understanding of how and why this took place. Case studies will compare pre- and post-war communities in Hawaii, Seattle, and California.
Please download flier and application. For more information, contact Park Ranger Patricia Biggs. Tel. 760-878-2194 x.3316 or email patricia_biggs@nps.gov.
Featured Pages
---
Plan Your Visit

Ranger led programs can be arranged by reservation. Depending on your length of visit a program may be a fifteen minute introduction to the site, to an in-depth tour of Manzanar lasting about ninety minutes. Please call our reservation line at (760) 878-2194, ext. 3333. You may download the
Group Reservation Request
and fax it to (760) 878-2949.
more...
Curriculum Materials
The Manzanar Educator Resources collection includes
• 42 standards-based lessons that connect 4th, 10th and 11th grade classrooms to the
history of Japanese American Internment.
• The lesson plans challenge students to connect to the past, apply knowledge of the
present and promote awareness of the future. The lessons are available online for
free. more...
Virtual Museum
The Virtual Museum showcases over 200 objects, historic photographs, paintings and documents that reflect life at Manzanar. The Virtual Museum also contains lesson plans that utilizes items from the Manzanar museum collection. Explore the Virtual Museum.
Junior Ranger
The Junior Ranger program connects children of all ages to the layers of history at Manzanar. The workbook engages children through a scavenger hunt, word search, mapping and writing activities. Become a Junior Ranger.
Our Partners
Our partners include organizations associated with the confinement of Japanese Americans and their experiences, as well as Local History and National Park Sites.
Please click here for the list of partners.
Contact us
Manzanar National Historic Site
Education Coordinator
760-878-2194 ext. 3314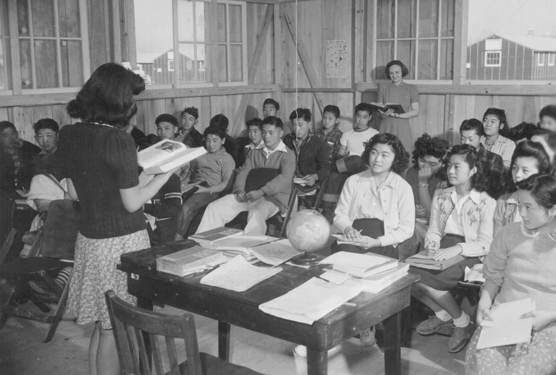 Photo by Tom Parker. Courtesy of The Bancroft Library. University of California, Berkeley.