Pelletier-Marquis House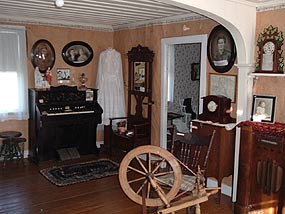 NPS/Anne Warner
Mid-June to Labor Day: Tuesday through Sunday, 1 to 4 p.m.
Pelletier‑Marquis House
St. Agatha Historical Society
P.O. Box 237
St. Agatha, Maine 04772
The Pelletier-Marquis House represents an older working class home and is thought of as "everyman's home." Humble in appearance, its original site, rock foundation, low ceilings, buckwheat hull insulation, wide floor boards, and square-headed nails make this a unique historical structure.
Did You Know?

French language, family, religion, and attachment to the land and waterways of the Upper St. John Valley are key identifiers of Maine Acadian identity.