Park Highway Temporarily Closed

Lassen National Park Highway is currently closed between the Kohm Yah-mah-nee Visitor Center and the Devastated Area due to an ongoing storm. More »
Hiking Terrace, Shadow, and Cliff Lakes Trails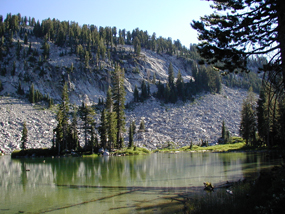 Start: Turnout 9 mi. from SW entrance, 21 mi. from NW entrance
Round Trip Distance: 4 mi. total (Terrace 1 mi., Shadow 1.6 mi., Cliff 4 mi.)
Round Trip Time: 3 hrs. (Terrace 1 hr., Shadow 1.5 hrs., Cliff 3 hrs.)
Terrain: Downhill 300' to Terrace, 350' to Shadow, 650' to Cliff; uphill on return
Elevation: 8000 feet
These three jewels lie in cirques under the north base of Reading Peak, and are not difficult to reach. For the photographer they present plenty of contrasting colors, for the naturalist a variety of trees, flowers, birds, and animal life.
From the sign at the highway the trail descends rapidly. The trail forks after 0.2 of a mile, the left fork going to Hat Lake and the right fork to Terrace Lake. After Terrace Lake the trail passes along the shore of Shadow Lake, and then through open woods and meadows for over a half mile to the Cliff Lake junction. The branch trail goes towards Reading Peak through a meadow and over a low moraine to Cliff Lake.
Because this trail starts at a high elevation and is largely on the north slopes it is not free from snow as early as many trails in the park.


Did You Know?

The Lassen Smelowskia flower only grows within Lassen Volcanic National Park, with the largest population on Lassen Peak, and is considered a Threatened and Endangered Species.