Warner Valley Road Work

There will be paving work on the road connecting Chester to the Warner Valley beginning Monday July 21 or Tuesday July 22 and continuing through July. There may be a 30 min. delay for visitors travelling to Warner Valley and Drakesbad.
Hiking the Hat Lake to Paradise Meadows Trail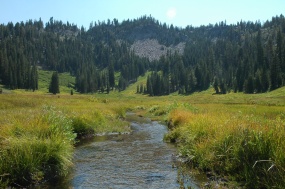 Start: Hat Lake parking area
Round Trip Distance: 2.8 miles
Round Trip Time: 2 hours
Elevation: 6,440 ft - 7,140 ft
Elevation Change: 700 ft
This scenic trail climbs gradually along a creek to a cliff encompassed meadow. The trail begins on the west side of Hat Lake. Small side trails lead to the lake edge which offers excellent views of the south side of Lassen Peak. After a half mile, the trail beings to climb as it enters a narrow ravine boarded by a tributary of the west fork of Hat Creek. The trail steepens again and the sound of rushing water grows louder. At this point, the forest thins and opens up to views of a tumbling waterfall. As the trail continues more gradually to the turn off to the Terrace Lake trail a number of small waterfalls come into view. At the trail intersection, follow the trail right and across the footbridge to continue 1.3 miles to the Terrace Lake trail. Or follow the trail 0.1 mile to the edge of Paradise Meadows. Here the trail ends and hikers can wander through the thick meadow grasses scattered with paintbrush, clover, lupine, gentian and other meadow wildflowers. Hikers may also follow the stream along its windy trail through the meadow as far as the talus fields that line the cliffs. The peaks Mount Conard and Lassen Peak are just visible hovering above the cliffs that surround this colorful meadow.
The Hat Lake parking area is located 9 miles from the northwest entrance and 19 miles from the southwest entrance on the park road. Cross the street to the marked trailhead on the east side of Hat Lake. Potable water is NOT available at the trailhead.


Did You Know?

The reddish color sometimes observed on top of snow at Lassen Volcanic NP snow is a living organism called snow algae. When snow begins to thaw, these microscopic organisms spring to life. They function as a primary food source and are being studied for their cancer-fighting properties.