Warner Valley Road Work

There will be paving work on the road connecting Chester to the Warner Valley beginning Monday July 21 or Tuesday July 22 and continuing through July. There may be a 30 min. delay for visitors travelling to Warner Valley and Drakesbad.
Hiking Brokeoff Mountain Trail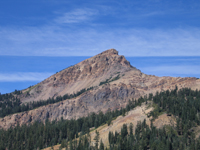 Start: Brokeoff Mountain parking lot near SW Entrance
Round Trip Distance: 7.4 miles
Round Trip Time: 6 hours
Terrain: Rocky, forested, alpine
Elevation: 6635' - 9235'
Downloadable trail guide:
Print version | Viewing version
The Trail and Scenery
For sheer beauty and rugged mountain scenery the Brokeoff trail is one of the best in Lassen. The trail climbs steadily through open meadows and forest for two miles and then through scattered hemlocks and finally above timberline to the top. At the west end of the mountain just before the last half mile of the climb, there is a good view of Mt. Shasta. From the top of the mountain there are good views of Lassen Peak, Conard, Chaos Crags, Diller, Shasta, and other mountains of the vicinity. The view of the old Brokeoff Volcano (Mt. Tehama) caldera is excellent from the summit.

The trail is considered one of the toughest in the park, though also one of the most rewarding. Hiking boots are recommended as the trail traverses a variety of terrain from volcanic sand to rocky outcrops. The one-half mile elevation gain and distance of the trail require a great deal of physical exertion to overcome, but the views at the top can't be matched.
Snow is likely to be found in places along the trail until mid-August, and there is usually too much snow for hiking before mid-July.
A wide variety of wildflowers will be found changing with the temperatures (lower elevation wildflowers peak in July, while the summit wildflowers peak mid-August).
Birds frequently seen include juncos, chickadees, western tanagers, flycatchers, and a number of others. Deer are common.


Did You Know?

The Lassen Volcanic National Park newspaper comes out twice a year--one issue for winter and one for the summer season. The newspaper describes the many activities you can enjoy visiting during the very different seasons. More...